Real Wedding: Lynette & Hisam
Detroit, Michigan | Photographer – Stephanie Kaslly
Last fall, I had the opportunity to work on Lynette and Hisam's stunning and intimate wedding in downtown Detroit, Michigan. It always gives me a special thrill when I can offer my floral design services to individuals I have worked with professionally in the past.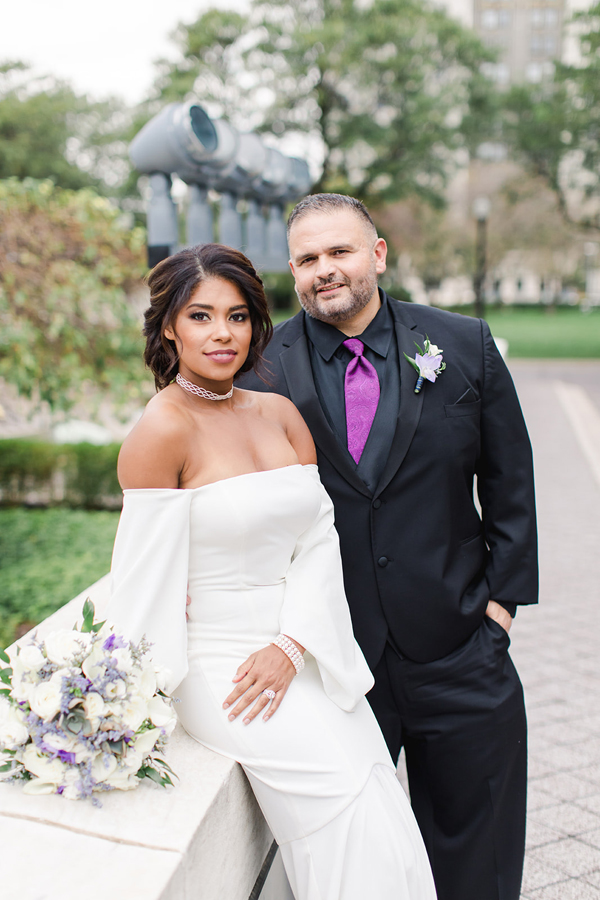 An Exciting Detroit Wedding
Lynette is an amazingly talented wedding photographer with Lighting with Love. I collaborated with her on two previous weddings and on my Detroit Castle Hall wedding photoshoot, where she was one of my lovely models. I was equally excited to hear that her wedding photographer was someone who I have also worked with in the past, Stephanie Kaslly.
Bringing a Color Vision to Life
I was thrilled to have the opportunity to help make Lynette's floral visions come to life for her wedding. For her fall wedding, Lynette and her groom had selected cream, purple, and sage green as colors that they wanted to emphasize. The cream roses in her wedding bouquet matched her stunning off-the-shoulder, classic wedding dress, and the purple and green flowers that we included in the bouquet offered a gorgeous pop of color.
The groom definitely loved the color theme of the wedding too. He accented his simple black suit with a vibrant purple silk tie. I also created a purple and cream rose boutonniere for him, with some simple splashes of green added in.
The floral designs that I created for their intimate wedding and reception venue in downtown Detroit also played off of this color scheme. If you'd like to see photos, click here now!
Future Color Trends
I definitely think that purple will continue to be a popular color scheme for weddings, and especially fall weddings, in the years to come. Purple opens up so many interesting floral choices for a creative designer. I honestly cannot wait to do my next purple wedding! Don't hesitate to contact Design Quintessentials for all your floral design needs.