I'm always searching for a styled shoot location and Castle Hall in Detroit is one venue that stood out to me. The place has big windows, a unique location, and literally looks like a castle. Therefore, I couldn't wait to yet again do flower design in Detroit.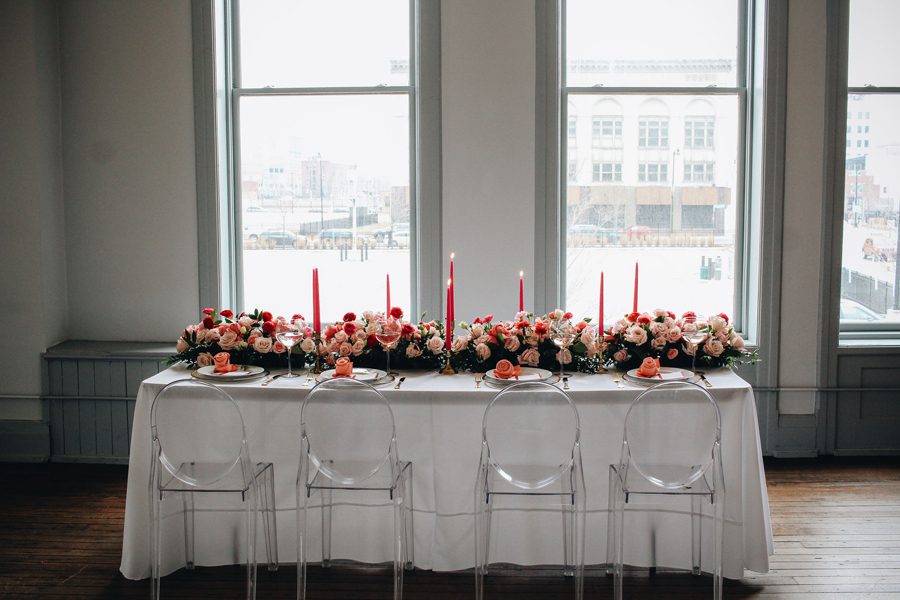 2019 Color of the Year – Coral
This was the second styled shoot that Kelle and I worked on together, which was a great opportunity to see if we'd be a good fit. Kelle was interested in using bright wedding colors so we agreed on bold and bright. After all, colors like that will make a statement. We decided on the 2019 Pantone color, living coral.
Kelle designed a flower wall that included ombre rose colors. The colors transitioned from dark red to light pink, which was really nice. Event Theory, an event rental company, provided all the ghost chairs to accommodate the design. I also really wanted to highlight the castle, so I created a wedding invitation package that did so. From the handmade paper to envelope liner; I did the whole nine.
A Dream Come True
The styled shoot was really a dream come true. Everything just seemed so perfect and I loved every minute of it. There was a total of six photographers, two real couples, and 6 female models. On top of that, I was able to swing a wedding cake from my arch. Talk about innovative! This took flower design in Detroit to a whole new level.
Our Efforts Were Noticed
It's always a good feeling when the work you've put in is recognized by others. Wedding Day Magazine not only featured the shoot on their blog, but it was also a finalist in Wedding Day Magazine PRINT edition (see page 57).
If you're interested in flower design services in Detroit, then book a consultation. We're ready to bring your vision to life.
Your Detroit Florist and Vendors
Photography | Chettara Photographer
Ilze Lucero, Visual Folklore, Oracle Visuals, Sydney Madison Photography
Venue | Castle Hall
Floral Design | Design Quintessentials & Flower Smith Studio
Stationery | The Paper Creation
Lace Boots | House of Elliot Lace Boots
Hair | Simona Vigh Hair Design
Makeup | Makeup by Rosaa
Lines | Event Theory
Cake | The Dulce Experience
Model | Meredith & Pam
Caleb, Jason, Glamounista, Lynette, Pamela, Sarah,
Crystal & Jake, Steffine & James
The Inspiration Idea to Reality