Real Wedding: Lauren & AJ
Brighton, Michigan | Photographer: Amanda Dumouchelle
Often, when we think about traditional wedding colors, our minds go directly to pale pink or a handful of other popular colors. However, more and more brides and grooms are thinking outside the traditional wedding rainbow of colors. When couples decide to use untraditional colors, it creates a fun challenge for floral designers. I'm excited anytime I'm able to express my creativity with new colors, venues, etc.
Think Outside the Color Box
I was recently approached by a bride who wanted to use mauve as the primary color in her wedding day palette. It was one of the first-ever requests as a floral designer that I had fielded for mauve. My first reaction was surprise, and I paused for a moment. My second reaction was excitement. Mauve is a beautiful color, especially if approached with a subtle and professional touch.
Mauve Roses
For this Brighton, Michigan wedding, I decided to use roses as my go-to flower in the arrangements. My next task was picking the perfect rose. I eventually settled on the Amnesia rose. The Amnesia rose, in my opinion, is the perfect blend between a pale blush color and a more vibrant purple hue. To accent these mauve stunners, I selected accompanying flowers in both white and peach. The bridal bouquet had the added highlight of a beautiful trailing ribbon in mauve that perfectly matched the Amnesia roses.
The mauve palette did not stop with the bridal bouquet. I used the same color scheme for all of the flowers that decorated the Brighton, Michigan venue. These included beautifully detailed floral arrangements on the guests' tables, as well as accent flowers on her three-tiered wedding cake.
If you're envisioning what all of this looks like, you can see for yourself by clicking here!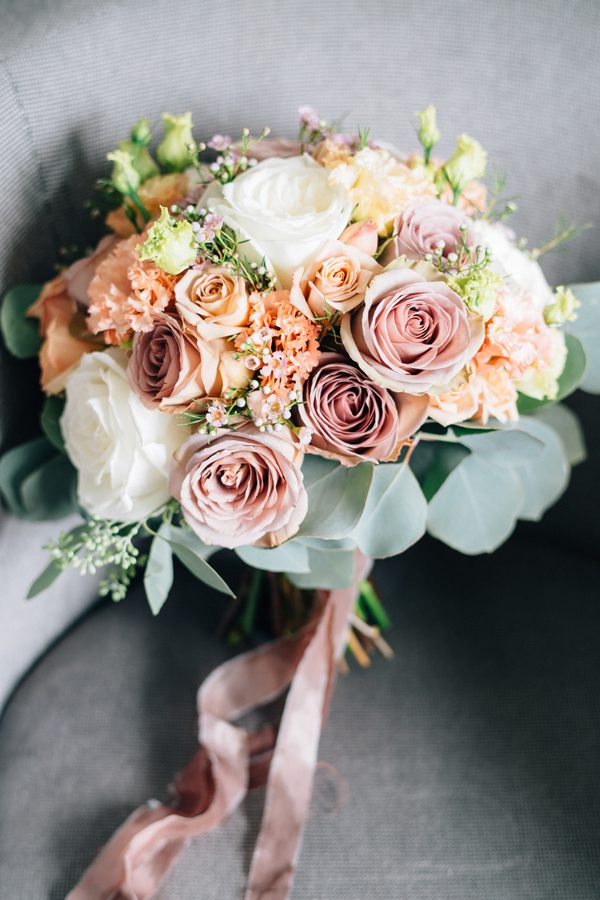 Consider Non-conventional Wedding Colors
I encourage all brides and grooms to expand their color palette and embrace the beauty of non-traditional color choices. Working with a skilled, professional floral designer will help you transform your color vision into a stunning floral reality on your special day. If you're looking for a floral designer to assist you in Brighton, Michigan, contact Design Quintessentials