Every now and then I receive a panicked email from couples stating that their floral designer bailed on them or they can't get in contact with them anymore. Unfortunately, these "disappearing floral designers" are often family members or close friends. I call them "Aunt Mary" or "Uncle Bob". These are individuals that have the best intentions for you but don't really know what they're doing when it comes to floral design.
Many brides accept help from Uncle Bob and Aunt Mary instead of a professional floral designer for a few reasons. One, they want to save money and two, they have more control over the process. However, is it really a good idea to gamble the biggest day of your life on some amateur? Probably not!
Professional Experience
Professional floral designers like myself typically have years of experience and know-how to handle such a situation when it arises. We have the knowledge and creative skills to turn your ideas into something even more beautiful than you imagined. And we have access to a greater selection of fresh flowers like garden roses, peonies and more. These are not often seen in your local grocery store.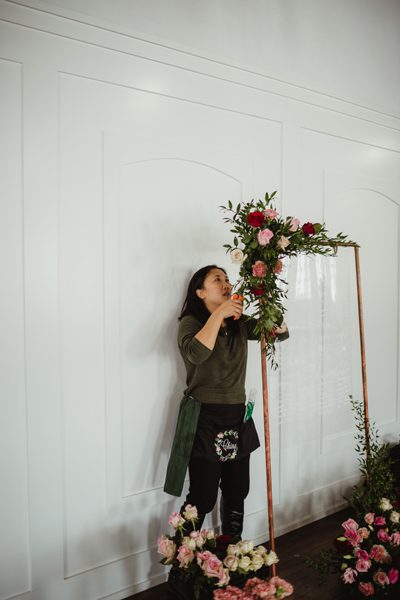 Wedding Experience
Your Aunt Mary may agree to make all the centerpieces but does she plan on providing help during the setup and tear down process too? The floral decorations at the actual wedding need to be arranged properly if you want to achieve maximum effect. Flowers flourish at a certain temperature and can wither if they're put out too soon. An amateur may not know this.
Plus, Aunt Mary is a guest of the wedding and probably doesn't want to spend hours working. Instead, she wants to have a good time like everyone else. That's why it's smart to entrust these tasks to professionals.
Contract
Professionals have the skills and experience needed to get the job done and give you peace of mind. Trust me, you'll have so much more to worry about while planning the wedding. You don't need to concern yourself with ordering too much or not enough. A professional floral designer will know and communicate this to you.
Aunt Mary might have the best intentions but does she know how to purchase materials for large orders? If she buys too much, you'll be the one paying for it. Additionally, a professional florist can often work out better deals than the average person can. Growers really appreciate their business.
Skill
Flowers are fragile and you might wind up with fewer usable flowers than what you have paid for. Even with Costco/Sam's Club flowers that ship to your house, do you know how to handle the situation when they don't arrive on time or when what you order is not what you expected?
The last thing that you want to deal with on your wedding day is a crisis over the flowers. Yet, if you stick with a family member or friend instead of a professional florist, you'll have nowhere to turn if things go badly. You can't assume that everything will go perfectly.
Hire A Professional Floral Designer
A professional florist knows how to transport flowers so they don't become injured along the journey. Your florist will also make sure that you receive exactly what you ordered.
Your dream wedding can become a reality with the help of a skilled professional. You might be tempted to take up your Aunt Mary's offer to provide floral arrangements but make sure that you know what you're getting into.