Doing photoshoots at interesting new venues are one of the most exciting parts of my job at Design Quintessentials. It undoubtedly helps spark my creative juices, and it also helps promote fellow vendors in the wedding business space. Our business is truly collaborative, and we all benefit from our fellow vendors' success. Speaking of collaboration, let me tell you about a styled photoshoot we did during the 2019 holiday season.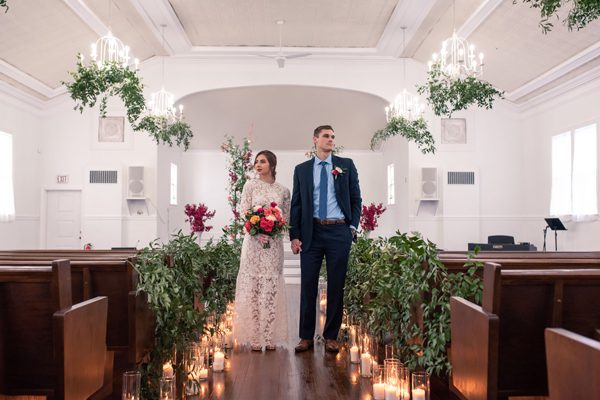 There's Nothing Like a Holiday Photoshoot!
The holiday season is always busy, both on a personal and professional level. But, I always try to make an effort to reach out to the people who I have worked with over the years. During one of these chats, the owner of the Holly Vault mentioned two of her new ventures and asked if I could do a styled shoot of them.
I enthusiastically answered yes and set about planning for the shoot, recognizing that it would be challenging to pull together these very different styles for the two locations. I have to give a huge shout out to the fantastic team I work with, including seven photographers, five models, and one couple. Without their invaluable assistance, I never would have been able to pull it off!
Location #1: Holly Vault Chapel
One of the shoot locations was the recently renovated Holly Vault Chapel basement. This location is ideal for anyone looking for a very intimate and personalized place for smaller weddings. Since the Holly Chapel owner, Cari, is a huge fan of coral, we decided to use that as our primary color. Coral is also a personal favorite of mine! There are so many flower choices in this beautiful hue, and it always creates a romantic yet sophisticated vibe.
Location #2: Venue One Eleven
The second location for the two-day shoot was the brand new Venue One Eleven, which was scheduled to open for the summer 2020 wedding season. This location is a former elementary school, and Cari and her team have lovingly renovated it with an amazing attention to detail. The former gym can accommodate a reception of 200 people, and there is also an indoor chapel space.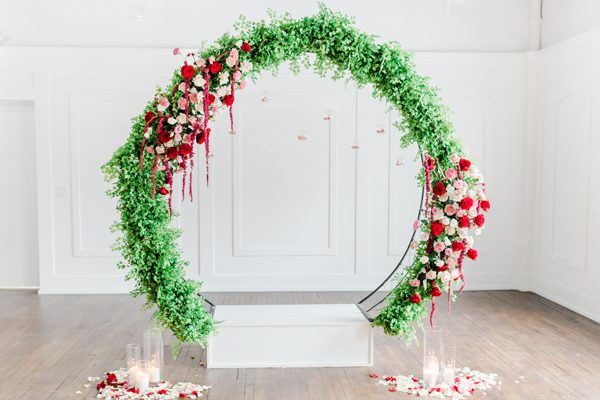 For this second location, we decided to embrace a different color scheme. Working with our linen vendors at Special Occasion, Jeremy and Kelly, we decided to focus on jewel tones. The final shoot emphasized merlot and navy. These two colors together definitely popped on the snowy winter day when we were photographing it.
A Color Theme Worth Trying!
If you're thinking about having a fall or winter wedding, you should definitely consider this exciting color combination! And at Design Quintessentials, we look forward to providing more floral arrangements in this rich color palette.
Your Detroit Florist and Vendors
Photography | Ilze Lucero, Captured by Kelsey, Brianna Helms, ChinLing, Morgan Diane Photo, You Bet I do Photography and Frances Albers
Videography | Mike Staff
Venue | Holly Vault
Floral Design | Design Quintessentials & Flower Smith Studio
Stationery | The Paper Creation
Gown | Dolly Couture & Sarah Kolis
Hair | Mary Simmons Makeup | Makeup by Rosaa
Linens | Special Occasion East
Bride's Jewelry | Jewelry Set in Stone Footwear | Klub Nico
Cake | Sweet Bree's Cookies | H J Cookies
Models | Lianne, Emily, Audrey & Dana