As you know, 2020 has been a challenging year for many small business owners, and Design Quintessentials has not been immune to these challenges. Many people had to cancel, downsize, or completely reimagine their weddings. There have been moments when I have been frustrated and have simply wanted to throw up my hands. So imagine my enthusiasm when I found out that I had been selected to do the floral designs for the cover of Wedding Day magazine. This is the second year in a row that they've chosen me for this honor!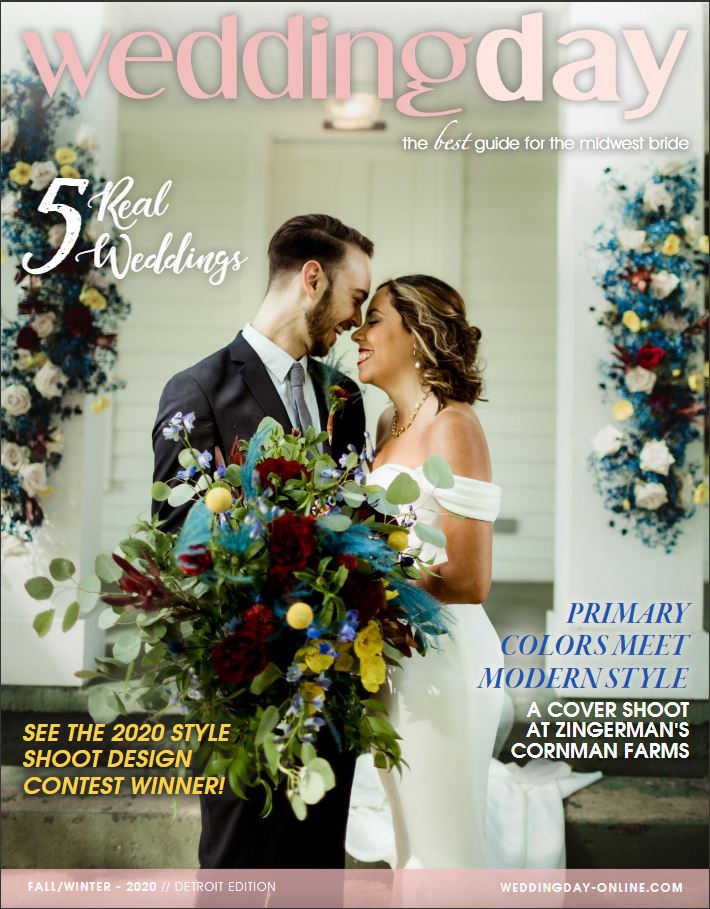 The Breathtaking, Zingerman Cornman Farm
Before I get into the design concept, I have to give a special shout out to our fantastic wedding venue, Zingerman Cornman Farm, in Dexter, Michigan. This farm is a breathtaking location, and the venue is also very flexible. They really work with couples to ensure that the venue suits the mood of their wedding.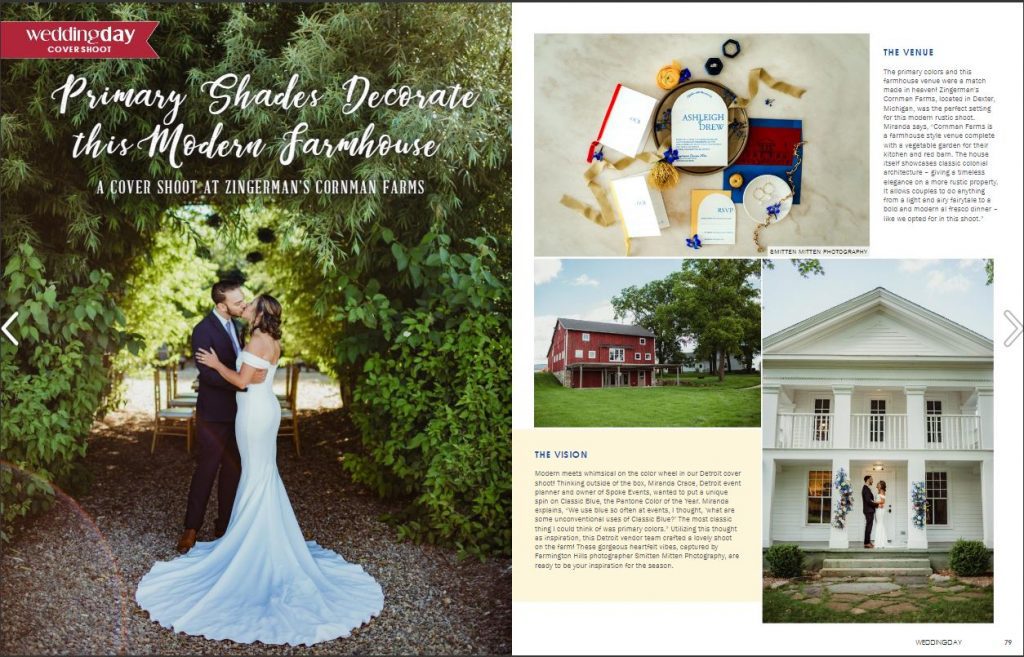 Doing Something New With Blue
When I received the initial call, they told me that the wedding shoot's primary color would be blue. If I am being honest, blue is not a color that I have had extensive experience working with. But, I also know that blue has become increasingly popular for wedding colors these days! More and more brides and grooms have sought to create a classically elegant vibe for their weddings with the color blue.
I had several days where I puzzled over what would be the best modern floral take on blue. So, I was thrilled when Miranda from Spoken Events, who was designing the cover, told me that she had selected primary colors as our theme.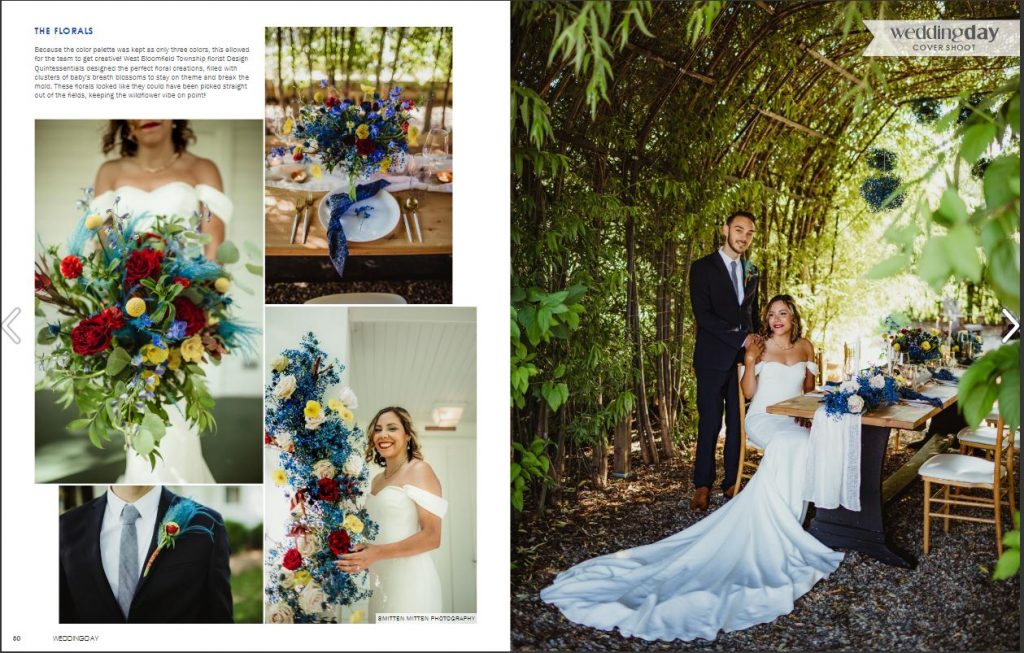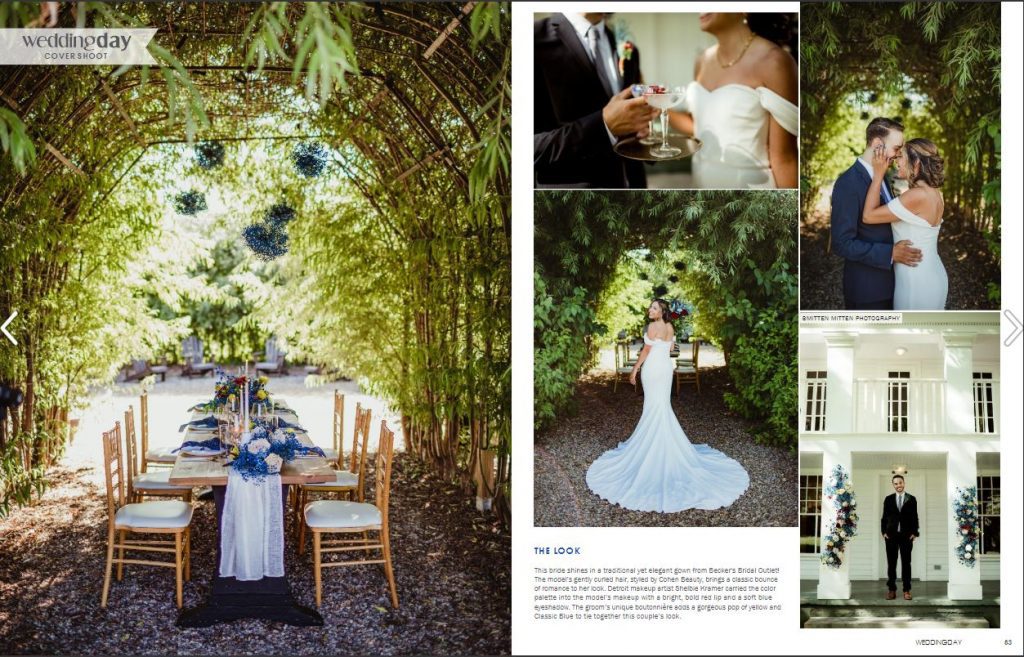 Adding Yellow and Red to the Mix
The primary colors theme allowed Design Quintessentials to bring pops of yellow and red to accent our main classical blue color. The bride's bouquet took my breath away. Since we were going bold with colors, we also decided to go bold in terms of size. Her bouquet was large, and it featured both red, yellow, and blue flowers in an almost equal mix. These primary colors would work well for any season.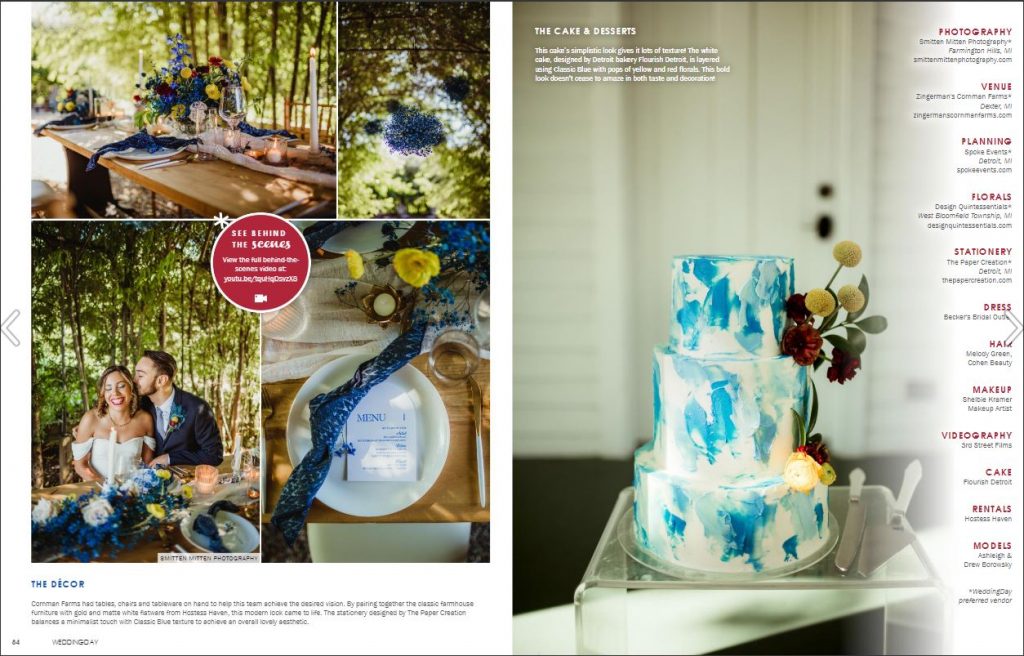 The flowers decorating the venue looked similar to the bride's bouquet and also included some beautiful white roses to balance out all of the bright, primary colors.
You can see how everything looked for yourself by checking it out here: https://issuu.com/life-events-media/docs/wd_detroit2020fallwinter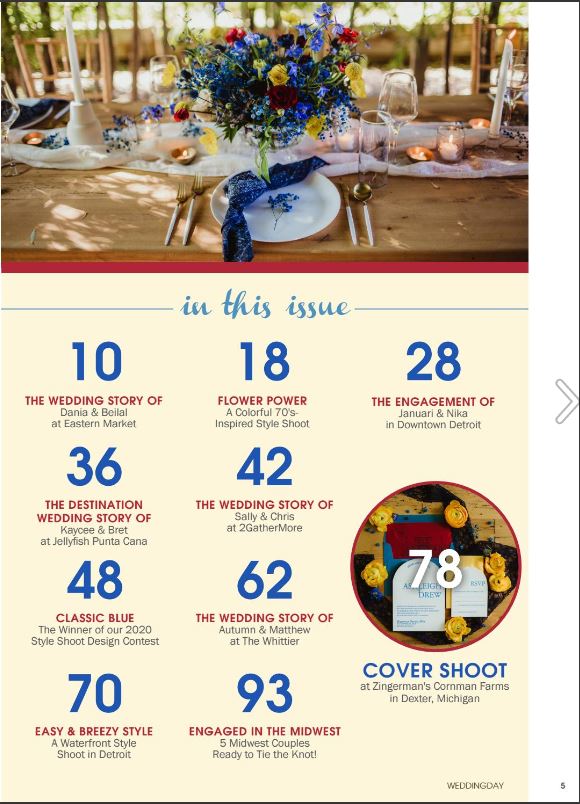 An Amazing Shoot With Safety First
I would also add that everyone who participated in this cover photoshoot prioritized safety in the time of Covid-19. We were all masked and practiced social distancing as much as possible. We hope that everyone can celebrate their weddings with loved ones safely and happily in 2020 and beyond.
Meet the Cover Team
I was also given the opportunity to have my headshot taken as well as introduction inside the magazine.
We Are Ready to Help Bring Your Floral Dreams to Life
For your own primary color bouquets or help bringing your wedding floral vision to life, reach out to us at Design Quintessentials.
And, we also look forward to working with the amazing team from Wedding Day again in the near future.
WeddingDay Magazine Cover Team //
Videography: 3rd Street Films
Photography: Smitten Mitten Photography – SMP
Location: Zingerman Cornman Farm
Coordination, Planning & Decor: Spoken Events
Florals: Design Quintessentials
Dress: Becker's Bridal
Hair: Melody Green
Makeup: Shelbie Kramer Makeup Artist
Stationery: The Paper Creation
Cake: Flourish Detroit
Rentals: Hostess Haven
Models: Ashleigh and Drew Borowsky