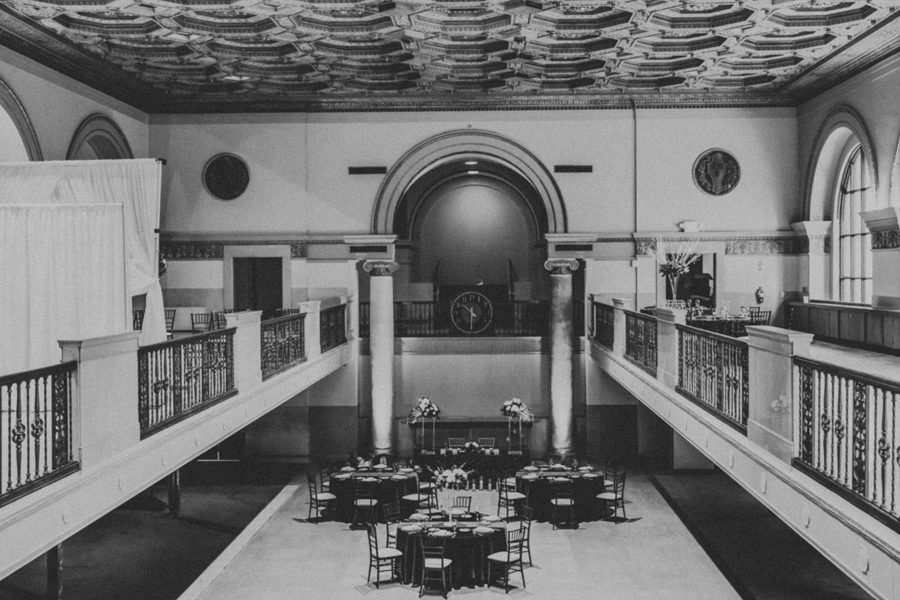 There are just some things I countdown the days till I can post because I just can't wait to share with you guys, and these photos are one of them. I took the amazing opportunity to organize and style a photoshoot at The Treasury in Pontiac. This venue is absolutely exquisite, and when I saw an ad about The Treasury getting booked for 2019 with an opening in April 2019 due to renovation and new ownership, I jumped on the chance. With an appointment, I was able to tour the venue with the amazing Ilze Lucero to get her opinion on the color theme we were going after.
Deciding on the Color Scheme
When I tell you that we were both simply floored with the detailing of the venue. If I had to choose one word for it I'd say exquisite. The 35-inch coffered gold-leaf ceiling and majestic tall Palladian windows were just two of the many things that stood at the Treasury. Immediately we knew we wanted to feature the gold color of the building, along with another element to make a statement. Ultimately, we went with the color theme of black and white with hints of gold. Black was the main star of the show, but we also wanted to use the accent of gold from the building.
The Styled Photoshoot at The Treasury
Having learned from my last photoshoot at the barn, I knew the right choices I had to make for this big setup. The first thing was to go for simple in terms of vendor choice and selection. I cut down to 1 hair stylist, 5 photographers, and 4 couples for this shoot. My last styled photoshoot had included over 25 people! And while it was amazing… let's just say things got a little out of hand after a while. I also added a videographer to this shoot to promote The Treasury. To watch the amazing video, click here!!
The video was done beautifully. And the photoshoot did not disappoint! I had such a blast organizing it, and the results were everything I wanted. I will always remember this photoshoot fondly, and the resulting shots definitely did the venue justice. Just take a look at these photos!

The Inspiration Idea to Reality
Your Detroit Florist and Vendors
Photography | Ilze Lucero
Oracle Visuals, Brittany Carress
Venue | The Treasury
Videography | RDS Films
Floral Design | Design Quintessentials
Stationery | The Paper Creation
Tea-Length Dress | Dolly Couture Bridal
Hair | Simona Vigh Hair Design
Makeup | Stephanie Stearnes Artistry
Bride's Jewelry | Elizabeth's Bridal Manor
Cake | The Dulce Experience
Model | Meredith, Elizabeth, Kristen, Priscilla, Matt, Erik, Chris, Jeff