Often time we do styled shoots within metro Detroit and surrounding area. This time around I wanted something near West Bloomfield and that's when it hit me. I remembered doing floral design in Bloomfield Hills at The Iroquois Club for a wedding a few years back. I adore their rustic design and beautiful structure so it was only right for me to make this the next styled shoot.
The Next Steps
I reached out to Katelyn, the manager at The Iroquois Club, to let her know I was interested in doing a styled shoot there. We clicked immediately and exchanged ideas to set-up a shoot date. I took the time to tour the venue to get an idea of how to set everything up. Originally wanted to highlight the ceiling with a large wreath and greenery draping. Later, we decided to highlight the fireplace instead.
The Color Scheme
I've done a lot of styled shoots over the years so I found myself struggling to decide on the color. We'd already done dusty blue, black and white, and coral so we agreed to go with green as most of the brides nowadays are requesting green. One thing to know about styled shoots is that we're all trying to highlight what we do. Therefore, sometimes others want to incorporate a different color than you, which can be challenging.
Bringing It All Together
The styled shoot included 5 photographers, 1 real couple, as well as 7 models. Kelle built a flower structure and several candle lights were placed by the fireplace. I created a "tree-like" item to highlight the venue lobby area.
A videographer was also there so we have a behind the scenes sneak-peek of the actual shoot! I'm excited that you get to see my floral design in Bloomfield Hills like this! People always wonder how we do what we do so this will give you an idea. You'll be able to see the comparison of inspiration vs reality.
As always, if you're interested in our floral design work, then head over to our website to book a consultation.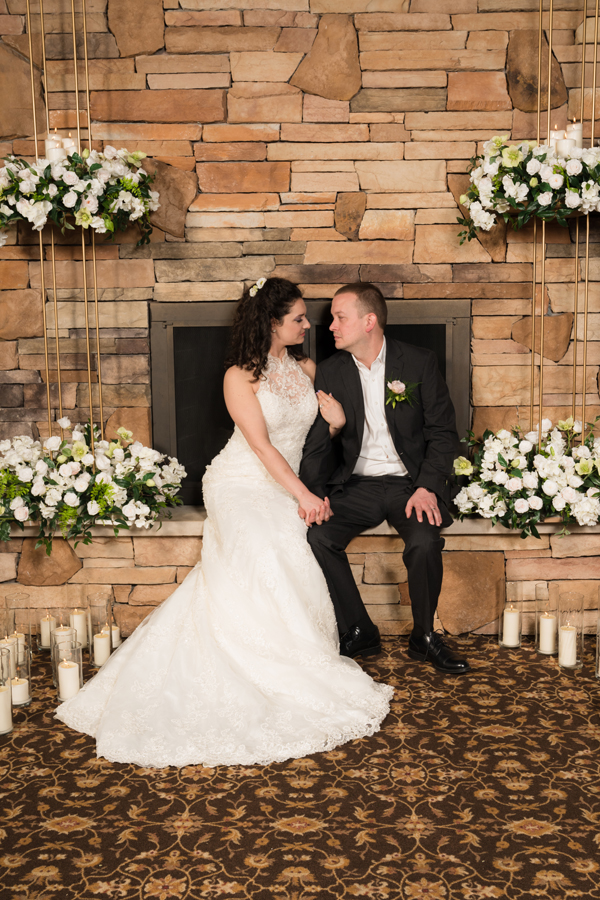 Your Detroit Florist and Vendors
Photography | Ilze Lucero,
Oracle Visuals, Visual Folklore, Brianna Helms Photography
Videography | K Booth Media
Venue | The Iroquois Club
Floral Design | Design Quintessentials & Flower Smith Studio
Stationery | The Paper Creation
Gown |Krustallos Couture
Ring boxes |Sunnyday Ring Box
Hair | Simona Vigh Hair Design
Makeup | Makeup by Rosaa
Makeup/Hair | Mary Simmons Hair & Makeup
Cake | Amazion Cakes
Model | Natalie & Eddie,
Bata, Vania, Kristine, Janelle, Pamela, Autumn, Jeffree
The Inspiration Idea to Reality