Often, at Design Quintessentials, we do sweeping and grand photoshoots with panoramic backgrounds. These are dramatic and definitely fun. But, I must admit they can be exhausting too since I am responsible for many of the details, not just the flowers.
So, when I am approached with alternative ideas, I often jump with excitement. And, this was my reaction when I heard from Merrie about doing a photoshoot to showcase Dolly Couture's new products at The Congregation, a coffee shop in downtown Detroit.
Dolly Couture Bridal
Dolly Couture Bridal is a wedding dress company that works hand-in-hand with brides who want more than a cookie-cutter look on their wedding days. From unique details on the bodice to a sneak peek at a ruffled petticoat, these dresses pack a vintage-inspired punch and look great at any wedding venue.
It Was Not Just the Wedding Dresses that were Unique…
The setting at The Congregation was also a twist on usual wedding photoshoot venues. The Congregation prides itself on crafting the metropolitan area's best coffee, but it also fosters conversations and community. If you ask me, no one event is more about community than weddings.
This made The Congregation, in many ways, an ideal venue for this wedding shoot.
The Photos Left me Smiling
Since I was only tasked with responsibility for the flowers, I had the luxury of taking a step back and watching the creative process evolve around me. My go-to photographer, Ilze, was amazing as always. Her photos always sing with style and personality. In addition, Merrie's love for the gowns that she offers is so very clear.
I also have to admit that I loved how the Design Quintessentials flowers enhanced the overall vibe. One of my favorite floral looks for the day was a petite yet tightly packed hand bouquet of creamy white roses. The bouquet's elegant simplicity was definitely a throwback to the 1950s, and it played off the dress's sparkling Diamante belt.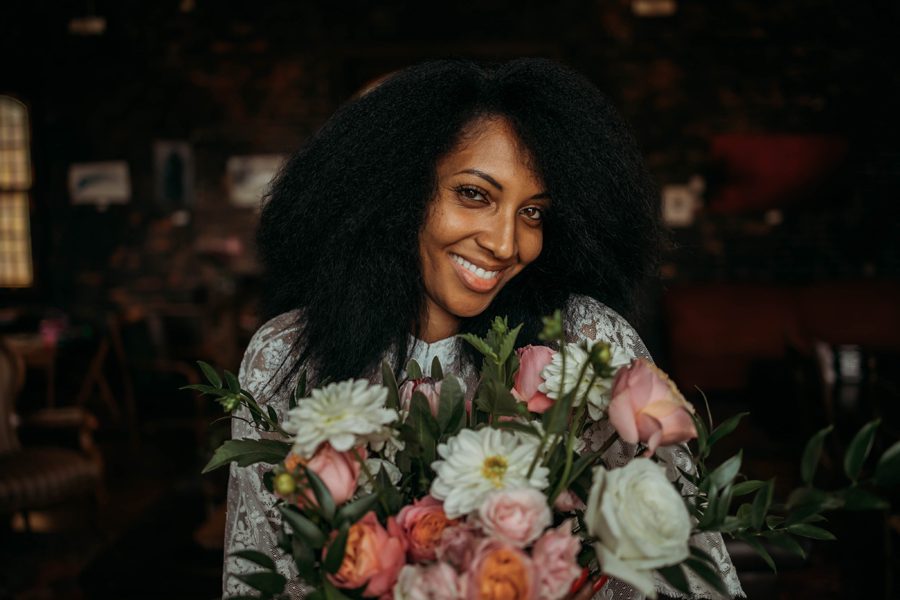 Contact Design Quintessentials
I can't wait to do another photoshoot like this in the near future or help bring your floral design vision to life at your next event! Be sure to contact Design Quintessentials if you're ready to showcase unique flower designs that tell a story for your big day.
Your Detroit Florist and Vendors
Photography | Ilze Lucero, Frances Albers Photography
Venue | The Congregation Detroit
Floral Design | Design Quintessentials
Stationery | The Paper Creation
Tea-Length Dress | Dolly Couture Bridal
Cake | Terri's Cakes Detroit⁠
Footwear | Shoe Bakery