One of my favorite farms in the Metro Detroit area is Muddy Acres Farm, and you know when I spot a gem like this, my creative juices start to flow. What is so amazing about this farm is that the owner, Lynsey, is a relative newcomer to agriculture. She's only had Muddy Acres Farm since 2017 and started her flower garden in 2015. In just a few years, her business has blossomed, and the community around her is able to benefit from her incredible flowers. Like many in her generation, she has realized the cathartic benefit of spending your days with farm animals and getting your hands dirty.
Now, let me tell you how I brought my floral design vision to life at Muddy Acres Farm.
A Pop of Color with Dahlias
All of the flowers at Muddy Acres Farm are absolutely stunning. In fact, sometimes, when I'm unable to source specific flowers from my wholesaler, I have turned to Lynsey's farm for assistance. And, I have never been disappointed!
Her dahlias, in particular, are breathtaking. They come in a variety of colors that visually pop, and to me, they always remind me of the rich peaches, corals, pinks, and red that streak our sky after a summer sunset.
A Photoshoot at Muddy Acres Farm
Given my love of Muddy Acres Farm, I had been tossing around a photoshoot in my mind for months. It would give me a great opportunity to play around with some of their great products and would also help promote Lynsey and her farm. In addition, my photographer, Ilze, who also loves Muddy Acres Farm, was completely on board with the idea. I absolutely love how all the photos turned out. One of my favorite ones is of our model in a simple field holding a large bouquet of peach dahlias with elegantly cascading greens in her arms. Playing off of this romantic color scheme, we had a peach smoke bomb go off behind her.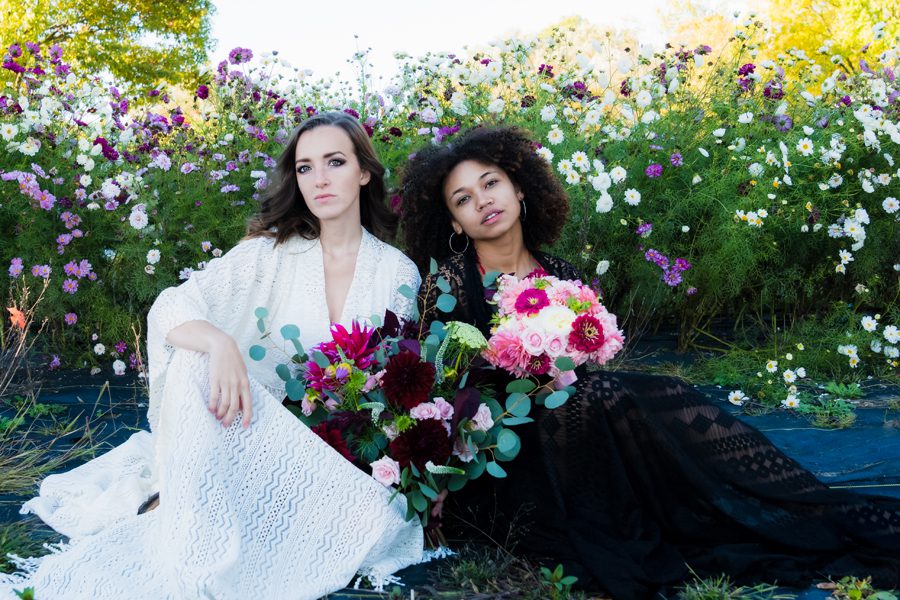 Floral Crowns: A Unique and Inspiring Choice
One of my other favorite photos from this shoot was one where the model was wearing a dahlia floral crown that I had designed. Again, the colors complemented her skin tone, and she was absolutely glowing in the photo. For brides looking to shake up their wedding hair look or who don't necessarily love the traditional veil look, floral crowns are a great option.
Contact Design Quintessentials
If you want to go the floral crown route, I would recommend closely consulting with your floral design team. At Design Quintessentials, we work closely with our brides to ensure that the crown enhances their wedding day vision and that everything is carefully balanced. Contact us today so we can begin brainstorming how to best bring your vision to life!
Your Detroit Florist and Vendors
Photography | Ilze Lucero, Frances Albers Photography
Venue |Muddy Acres Farm
Floral Design | Design Quintessentials
Stationery | The Paper Creation
Tea-Length Dress | Dolly Couture Bridal
Models |Mariah Alexis, Becki, Ploy