If there's one thing for certain, Design Quintessentials prides itself on always bringing creativity to its wedding photoshoots and the clients we work with! Being an Asian myself, I've always have this idea to do a photoshoot with Asian dress mixed with modern twist.
Due to COVID and restrictions at the time, I was looking for an outdoor venue where vendors and models would be more comfortable without mask during the photoshoot. After my wedding setup at Roostertail for Acacia & Colin, I immediately fell in love with this waterfront venue. It has 2 outdoor ceremony locations, lots of rooms and space to work with. And I had a great time working and chatting with Nicole, event manager at Roostertail, it was JUST perfect.
A Unique Asian-Inspired Photoshoot
In the beginning, the only thing I knew for sure was that I wanted to have a red and gold color scheme with an Asian-inspired theme. The first step to accomplishing this was to find great models! I found two lovely Asian female models. These models brought a stunning style and great warmth and charisma to the shots.
The Beautiful Gowns
The key to making red and gold work was to find the perfect wedding gowns to pair with my floral designs. A San Francisco based Asian-Inspired clothing vendor supplied several gorgeous dresses for our models. One of the dresses was stunning gold embroidery with peacock design. The silk fabric with modern design just amazingly beautiful. And the other was made with soft lace and tulle adorned with gold floral embroidery, finished with a dramatic cathedral length train.
Of course since the venue itself has 2 outdoor ceremony locations I figured I could do 2 different theme at the same time so I invited my friendor, Merrie from Dolly Couture and her partner Shawn from Pink Poodle Dress Lounge with western white gowns.
The Flowers Did Not Stop with the Wedding Bouquets
The floral scheme of a wedding goes far beyond just the bride's bouquet. At Design Quintessentials, we bring a certain floral flare to each part of a wedding. One of my favorite shots from this particular shoot was the ceremony setup. I adore blue sky with outdoor ceremony, don't you?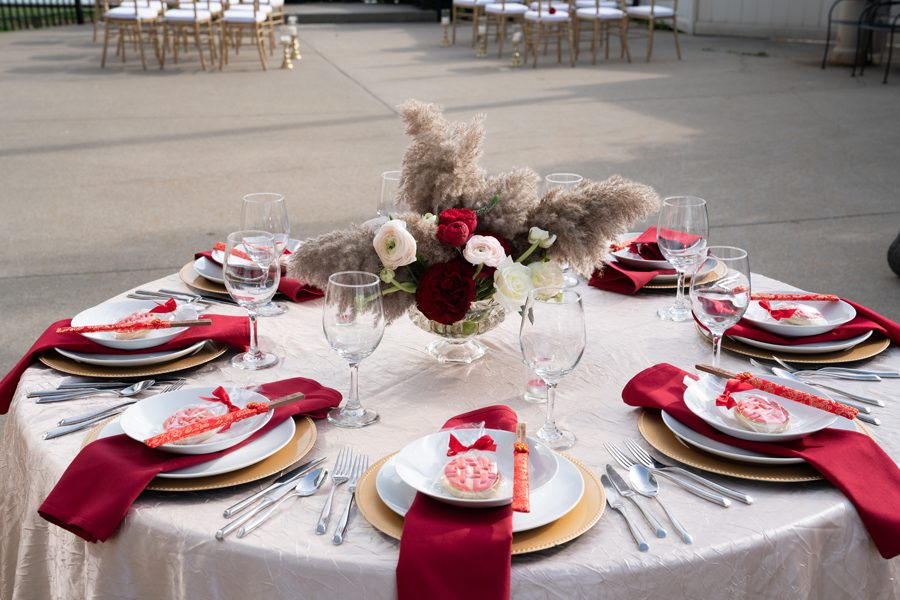 Grateful for the Experience: Floral Design in Detroit
I was so grateful to be able to work with many talented individuals to pull off this photoshoot, including a great event planner Nicole and her team. I'm also glad that I provided my floral design services at this fantastic venue in Detroit with amazing view.
Learn More About Floral Design Services
Do you have an event coming up and want florals to help tell your story? Head on over to our contact page for a free quote today!
Your Detroit Florist and Vendors
Photography | Ilze Lucero, You Bet I do Photography,
Frances Albers Photography, Stacy Anderson Photography,
Chettara T Photography, Shevon Vannitam by Media
Venue | Roostertail (Nicole – event manager)
Floral Design | Design Quintessentials & Flower Smith Studio
Stationery | The Paper Creation
Designer Gown: Pink Poodle Dress Lounge
Tea-Length Dress | Dolly Couture Bridal
Chinese Traditional Dresses: East Meets Dress
Cookies: Rolling in Dough Cookies
Cake: Daniela's Desserts
Makeup/Hair | Makeup by Rosaa, Mary Simmons Hair & Makeup, Simona Vigh Hair Design
Models |Aleisha, Amber & Kurt, Annabell & Stan,
Adara & Adam, Traci & Joe, Jillian & Curtis