Real Wedding: Acacid & Colin
Roostertail Detroit, Michigan | Photographer: Sophie Catherine Photo
Covid has changed the realities of modern American life—from how and where we work to how we socialize with our friends and families. And, it has most definitely transformed the wedding industry. Over the last year, I have learned so much about thinking creatively and still offering my brides and grooms incredible wedding experiences in uncertain times. Acacia and Colin's wedding definitely employed all of my creativity to bring their wedding vision to life.
A Change in Venues
One of the most significant changes in the Covid era with weddings has been the need to downsize some weddings and also to shift venues. Many couples have embraced smaller and more intimate venues that truly reflect their personality as a couple. Acacia and Colin were one of these couples that had to change venues only a few short weeks before their wedding.
Their wedding was originally scheduled for the stunning industrial event space, The Eastern, in Detroit. But, the staff at the new venue was incredibly accommodating in ensuring that they had their dream wedding.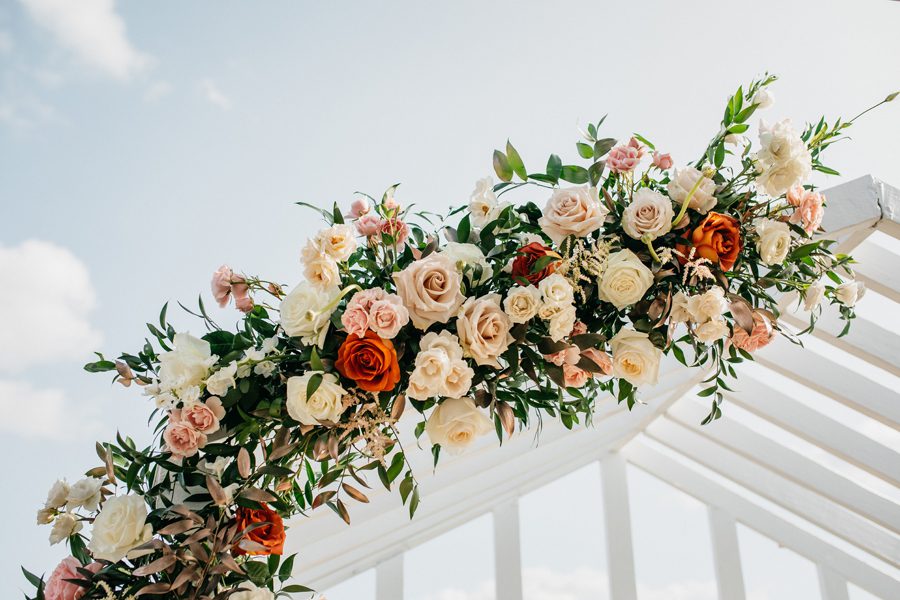 Flowers Are An Essential Part Of Any Dream Wedding
When people think about their dream wedding, some visualize their dress, while others turn their imagination to music and entertainment. At Design Quintessentials, we believe that flowers are the heart and soul of any couple's perfect wedding day. And Acacia and Colin definitely agreed with us.
In each of our consultations, we focused on creating floral arrangements that captured their engaging couple style — glamorous and energetic Acacia and patient and reassuring Colin. During these consultations, as I developed this understanding, we settled on our color scheme. Rose gold it was! This color definitely spoke to Acacia's stylish and adventurous side. But, it also struck a heartfelt chord with Colin.
What Flowers Did Design Quintessentials Use?
Once we had all decided on our color scheme, we could turn our attention to selecting the freshest and most beautiful flowers that work well with this color. To up the romance factor, we heavily featured blush-colored roses in Acacia's bouquet. Phalaenopsis was also a star of this bouquet. These beautiful orchids lend a delicate yet sophisticated touch to any floral arrangement. Astilbe and lisianthus were also important flowers in the arrangement, along with rose gold-sprayed greenery. Once we had the romantic elements down, we added large toffee-colored roses that definitely spoke to Acacia's more dramatic flair.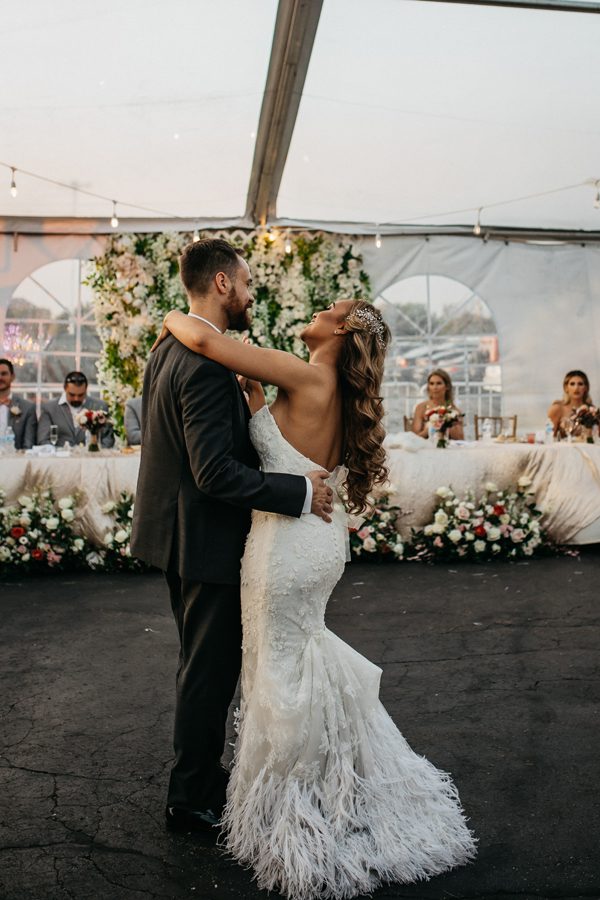 Get A Customized Solution
On your special day, let your flowers tell your love story by working with a Floral Designer that knows how to bring your vision to life. All of our couples are unique and special, so it's a MUST that you have a customized solution made just for you! If you're looking for impeccable floral design services in Metro Detroit, Michigan, contact Design Quintessentials today!