You guys, we were so proud to have our unique, eye-catching floral creations presented in the recent cover photo and feature story for the fourth edition of Wedding Day magazine. If you didn't know, Wedding Day is an interesting magazine for Midwestern brides. The magazine, originally launched in Indiana, is working hard to increase its presence in the bridal market, including in the Detroit metropolitan area. They strive to present the work of wedding innovators, including companies like our very own, Design Quintessentials, and appeal to brides who are looking to have a unique wedding experience.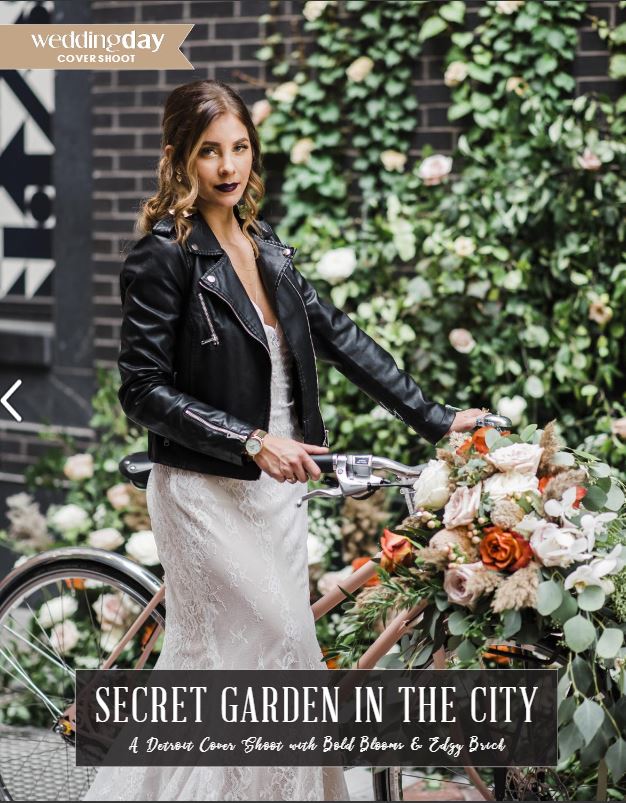 The Excitement Was Real
When I was approached by Kaitlyn from Wedding Day to play an important role in this cover story, I jumped at the opportunity to showcase my floral designs and my personal take on weddings. I loved that the entire shoot emphasized the juxtaposition between a relatively casual, boho vibe and an urban setting, which is not something you see every day. The magazine editors clearly explained that their vision was to create a "secret garden in the city." And, I think my floral design helped pull off this very challenging task in a charming and innovative way, bringing the spirit of the city to life for all of my fellow urban boho wedding lovers.
The team work involved in this cover shoot was amazing! Aimee from Modernly Events led the way with her impeccable planning, organization, and concept design. And, I have to give huge props to my photographer, Ami, who made everything even more beautiful. There were moments that literally took my breath away.
<< Go to Page 74 to see more >>
<< Check out this Behind the Scene Sneak Peek on Facebook >>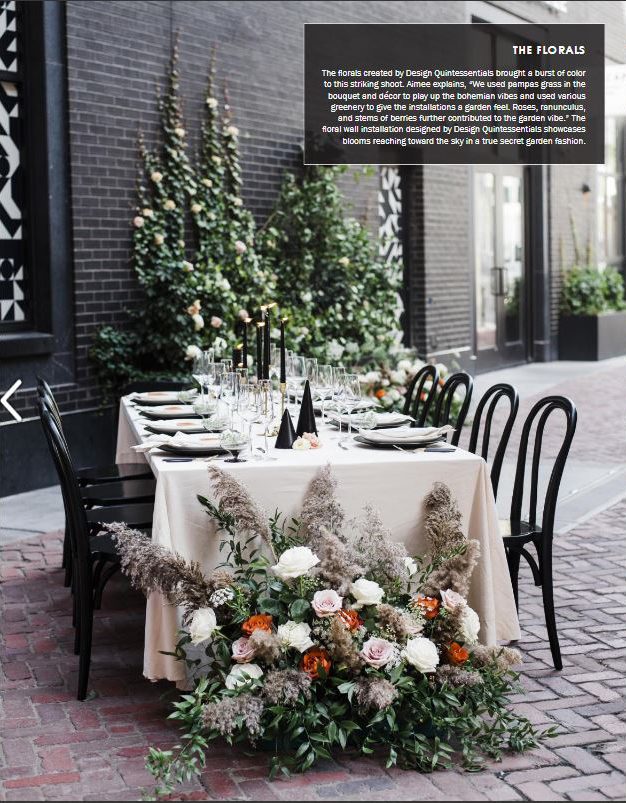 We Are Ready to Help Bring Your Floral Dreams to Life
Remember that flowers set the mood for your wedding, from the elegance of long-stemmed roses to free spirited wildflower posies. And, we want to help you create your dream mood, working in conjunction with other wedding product and service innovators to build a unified theme.
And, we also look forward to working with the amazing team from Wedding Day again in the near future. 
WeddingDay Magazine Cover Team //
Videography: Mike Staff Productions | Wedding DJ, Photography & Videography
Photography: AMI WILLIAMS PHOTOGRAPHY
Location: Parker's Alley, Shinola Hotel
Coordination, Planning & Decor: Modernly Events
Florals: Design Quintessentials
Dress: Becker's Bridal
Hair & Makeup: Kyle Ann
Stationery: Invitations by Caitlin
Calligraphy: Plume & Proper
Cake & Desserts: The DULCE Experience
Bike & Watch: Shinola
Rings & Jewelry: Posie Atelier
Linens & Tabletop Rentals: @eventsource
Model: Pamela Tarkowski, 2019 Cover Model Search Winner