In the line of work I do, collaboration is important and networking is a must. I typically go to monthly meetings for networking, such as the Rising Tide Society meetings. It was there that I met Kelle. She opened up her studio, Flower Smith Studio, for the Livingston County group meeting. And guess what? She is a floral designer and does eco-friendly flower arrangements and large installations!
Friends to Styled Shoot Partner
I met Kelle in late 2018 and our friendship has blossomed since then. I sometimes wonder if it's because she's a Capricorn like me (lol). We're both pretty conservative people and we think alike. It's fun bouncing ideas off of one another about custom flower arrangements and coming up with creative solutions. Therefore, it was only right that we started participating in styled shoots together.
Not Just One Styled Shoot, But Multiple
Kelle and I have brought our custom flower arrangements skills to multiple styled shoots. We've done the following styled shoots together and some were featured in blogs and print magazine:
Iroquois Shoot
Cross W Ranch Shoot
I was ecstatic when Kelle also opened up her lakefront home for us to do a backyard styled shoot. That one was featured by The Budget Savvy Bride blog, which was pretty cool.
It's Good to Have Entrepreneur Friends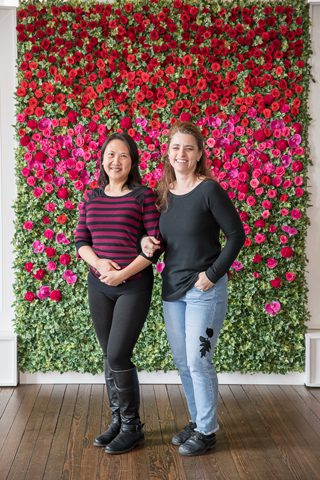 I am so thankful for the many people I've been able to meet because of my business, Design Quintessentials. In meeting various people, you learn that we're all just trying to figure it out. All we know is that we're following our passion and hope it all works out. This entrepreneurial journey is made even better with people like Kelle. She understands because she speaks the same floral design language. It's absolutely rewarding to know that we can work together and create beautiful custom flower arrangements together.
Book a Consultation
If you're interested in floral design or custom stationery designs, don't hesitate to reach out. Design Quintessencials specializes in helping clients tell their magical story through cohesive design. Check out our blog to see styled shoots and other vendor spotlights.