The boutonnières worn by the groom and groomsmen are easily one of the most important floral designs at your wedding celebration. Believe me, people pay attention to these just as much as the bouquets. However, picking out your boutonniere's color and style is only the first challenge you need to tackle. Below, we describe how to pin on your boutonnière to ensure it lasts through your wedding and a long night of dancing. 
Boutonnière Dos and Don'ts
There are a ton of dos and don'ts to think about when it comes to wearing your boutonnière. Here are some of the most important ones:
Tip #1: Where To Place Your Boutonnière
Make sure that you are wearing your boutonnière on the correct side of the suit. This means that it should be on your left lapel. If you find yourself getting confused, just remember that the boutonniere that you love should be close to your heart.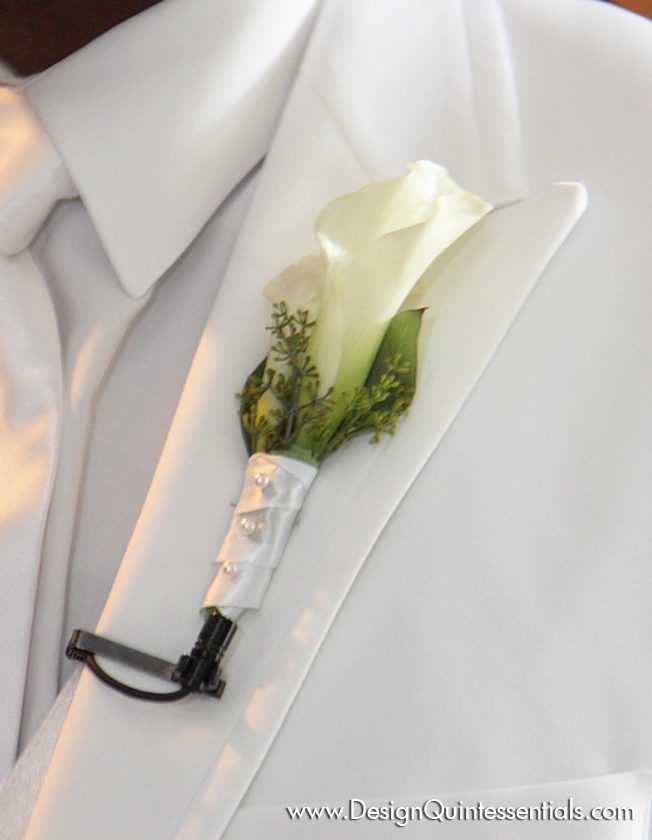 Tip #2: Use More Than One Pin
It is important to remember that one pin is not enough to hold a boutonnière in place for an extended period of time. Two pins are better than one.
Tip #3 Place The Pins In The Right Spot
Now that you know that you should be using two pins, you can focus on how the pins should be placed. Both pins should be inserted through the back of the lapel. And the pins should go in both directions. One should be from the top, and the other should be from the bottom.
Bonus Tip: Double Check!
Once you have securely pinned your boutonnière to your suit lapel, there is only one last thing to check. Make sure that none of the pins are sticking out. You would hate to accidentally poke your spouse during your first kiss.
Watch This Video for More Details
At Design Quintessentials, we know that weddings come down to the smallest of details. We are focused on making sure all of these details are perfect for our couples. To make sure that you know all of our tips for the perfectly pinned boutonnière, check out this video on how to put on a boutonniere. Also, if you need a very special floral design created for your special day, contact us to learn more!