Real Wedding: Nicole & Joe
Detroit, Michigan | Photographer: Captured Couture Photography
What makes the perfect wedding? I like to think of this as the million-dollar question every couple and wedding planner needs to consider. For some couples, the answer is the perfect wedding dress, be that a form-fitting, curve-hugging mermaid-style dress or an over-the-top Disney Princess ball gown. For others, it may be a mouthwatering meal or a live band that plays their favorite songs and has people up and dancing all night long.
For me, the answer to this question is often cohesion.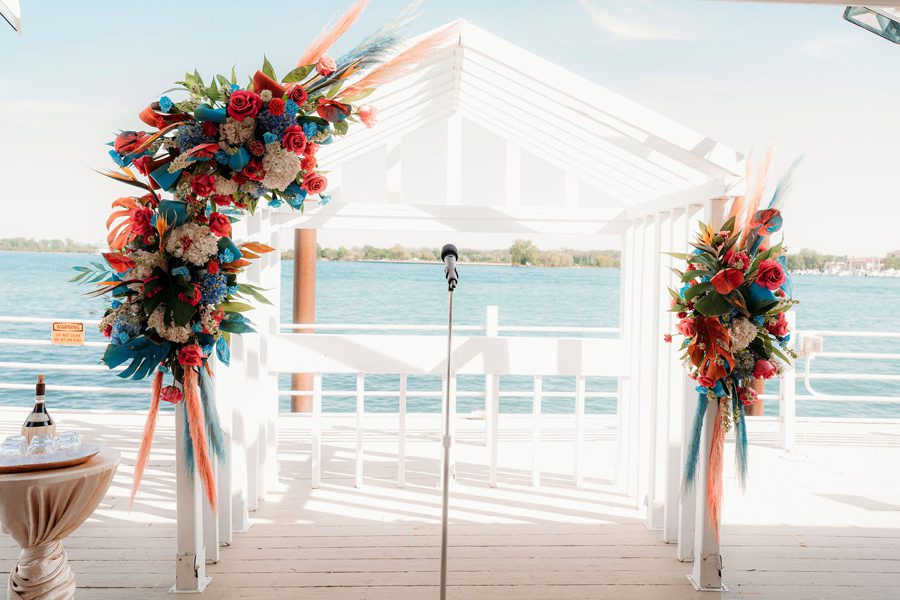 How Do You Create a Cohesive Wedding?
At Design Quintessentials, we believe it is essential to tell a cohesive love story to your guests, beginning with the invitations you send out and including the floral designs that decorate your venue space.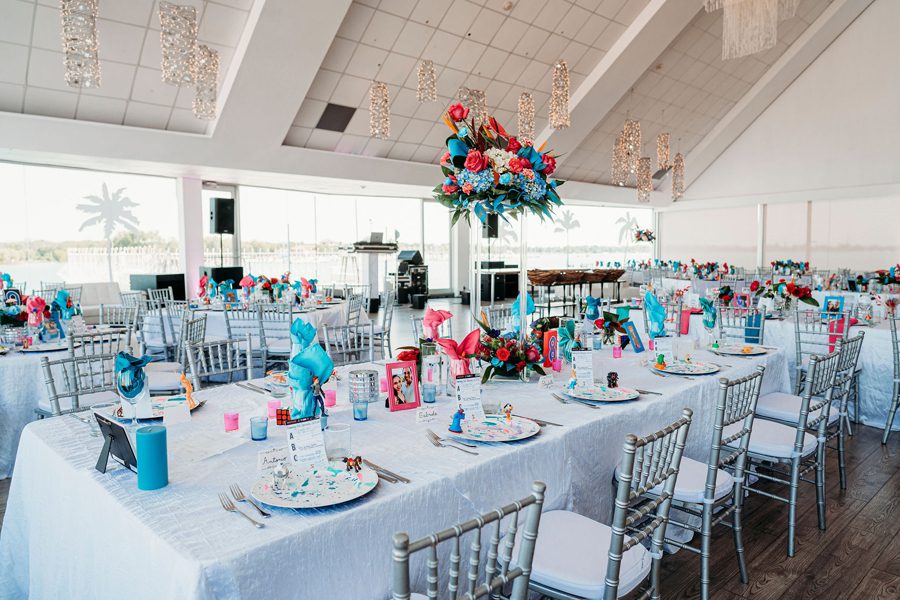 Nicole and Joe's Wedding: A Cohesive and Beautiful Flower Design
I'm privileged to see a wide range of creative wedding themes in my floral design business in metro Detroit. The one that Nicole and Joe came to me with definitely checked off all the creative boxes. They wanted a distinctly Miami vibe for their wedding. When digging into the theme a little bit more, Nicole and Joe told me that when they think of Miami, they think of vivid colors, especially neon pink and neon blue. Bright and fun were other words that they associated with Miami.
Incorporating These Colors Into All of Their Wedding Details
Armed with this information, I set to work creating their invitations. These wedding invitations incorporated large amounts of hot pink and blue splashed across the Detroit skyline. Nicole and Joe wanted their wedding to have a party-like atmosphere, so I also thought about the fonts on the invitation. The message I wanted to send was fun, fun, and more fun.
The pops of neon pink and blue did not stop with the invitations. Design Quintessentials also carried this color scheme over to our event floral design. I personally loved how Nicole's wedding bouquet turned out, and she loved the hot pink roses and blue-hued carnations that filled her bouquet. I also included lots of tropical flowers, like birds of paradise and palm leaves, in some of the larger floral designs.
Create Your own Cohesive Love Story With Us
Nicole and Joe's wedding details told their unique love story and made their wedding guests an integral part of their story. If you are interested in crafting your own cohesive love story, contact us at Design Quintessentials and schedule your initial consultation. We look forward to working with you from the beginning to turn your dreams into a wedding reality.