Real Wedding: Nia & Davon
Southfield, Michigan | Photographer: Wedding By Jermme
The team at Design Quintessentials knows that no two couples and their love stories are exactly alike. This also means no two weddings should look or feel the same. As a result, we strive to imbue each wedding with a sense of the couple's personality and love story.
Creating this vision, hand-in-hand with our couples, is one of our favorite parts of floral design. So let me show how we helped bring Nia and Davonte's vision to life.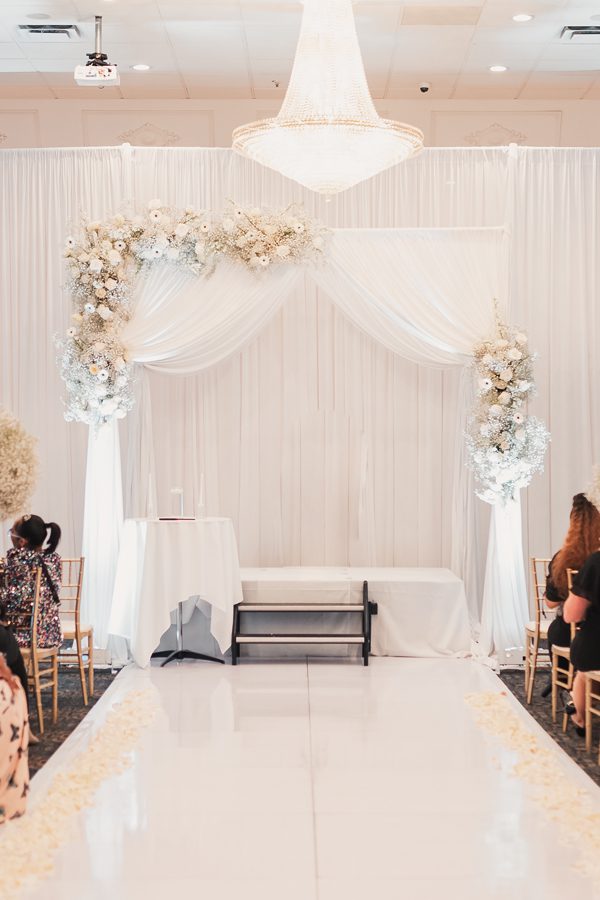 Nia & Davonte: A Busy Couple With a Clear Vision
Working with Nia and Davonte to help them create their dream wedding was a wonderful experience that allowed us to branch outside the typical wedding color palette. We always love to challenge ourselves and push our creative boundaries.
When Nia and Davonte first came to us, they had already selected their venue, a beautiful Regency-style banquet center, and decided on their wedding colors. We were so excited that they wanted to work with white, black, and elegant pops of gold. Nia and Davonte explained to us that their vision was classic luxury.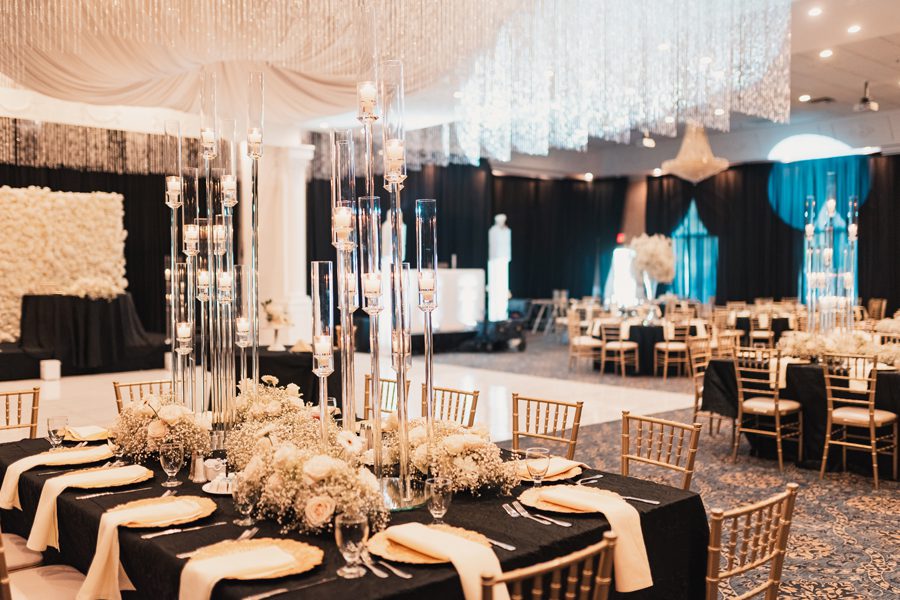 Based On These Descriptions, We Were Ready To Get To Work
With a clear vision from the bride and groom, we were ready to start working on all of the wedding details, from beautiful invitations to all of the event floral arrangements.
Our first task at Design Quintessentials was designing the invitations. We carefully crafted a logo for them and then printed the invitations on glittery, high-quality card stock. The design clearly announced to invitees that the wedding was going to be classy, classic, and luxurious. But, our invitations were about more than style; they were also about convenience. By including a QR code on them, guests could easily RSVP yes or no to the event.
We could now turn our attention to designing breathtaking flower designs for the space. After carefully consulting Nia and Davonte, we focused on stunning and streamlined white flowers. Nia's bouquet was filled with white roses and white Phalaenopsis orchids with a beautiful sprinkling of white baby's breath.
The same color scheme was carried over to the arrangements that were placed on tables, and we also made sure to include crystal candelabras to up the wow factor even more. We also used shorter arrangements with candle lights to ensure that conversations could happen easily at tables.
Want to get a glimpse of the wedding for yourself? Take a look right here!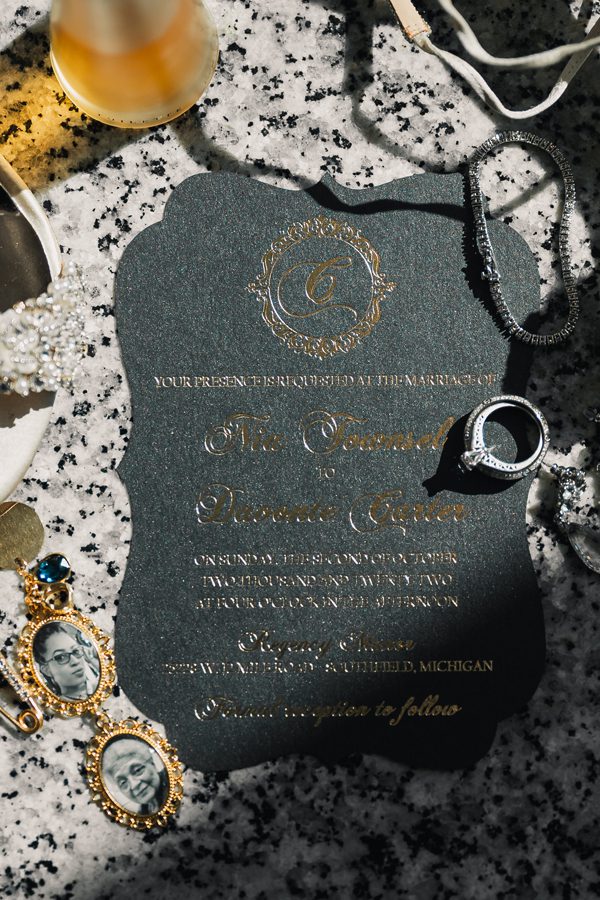 Designing The Perfect Wedding is a Team Effort
The best weddings are a team effort, and Nia and Davonte's big day definitely required the expertise of many Metro Detroit professionals. We were thrilled to work hand-in-hand with Couture Events Rental, who took the lead on chandeliers and lighting. Petite Sweets Detroit provided the yummy desserts, and Brandi from B Posh Event Planning extended her superb event planning skills to make their big day a success.
For more information about how Design Quintessentials can be an integral part of your wedding dream team, reach out to us to schedule an initial consultation.