Real Wedding: Bri & Jake
Leonard, Michigan | Photographer: Mike Staff Productions
I love working with all my clients! However, it always warms my heart to work with those who've come through word-of-mouth recommendations or individuals who've seen my work firsthand at other weddings. It's a testament to me that we're doing things the right way.
Brienne: From a Wedding Guest to the Bride
I've had the pleasure of knowing Brienne for almost five years. I first met her when I did her brother's wedding invitations and floral designs. At her brother's event, she told me I had really captured her brother's personality, and I treasured that compliment. 
Therefore, when Brienne got engaged to Jake, she already knew she wanted Design Quintessentials to assist with her big day! I was thrilled and honored that she wanted my company to bring her vision to life.
Picking The Perfect Venue for Their Love Story
At our initial consultation, Bri and Jake already had a clear idea about the love story that they wanted to tell. They also knew what Metro Detroit venue they wanted to go with. They both picked the historic and stunning Addison Oaks Buhl Estate.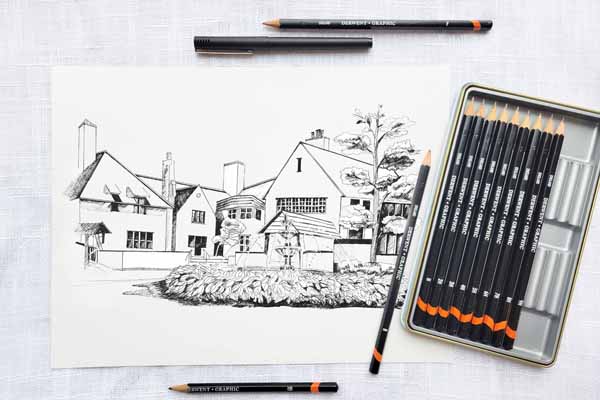 Capturing This Historical Vibe in Wedding Stationery
Brienne reviewed some of our unique wedding invitations and loved how they looked. She and Jake definitely wanted their invitations to evoke the historical drama of their estate venue. I was able to successfully pull this off with a hand-drawn illustration that was highlighted by a timeless gold leaf design. If I'm being honest, I think it's one of my favorite wedding invitations I've ever created.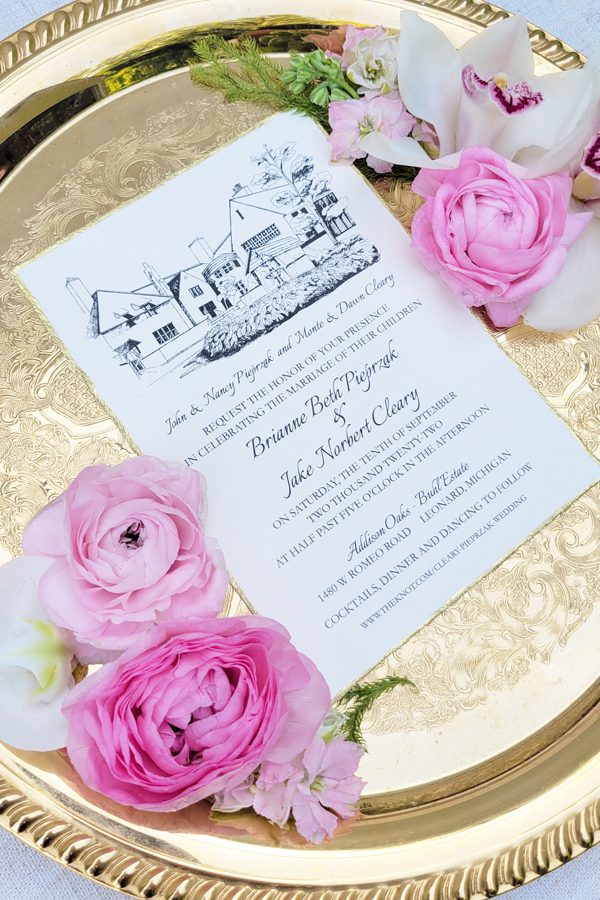 We Bring a Unique Take to Floral Design
In addition to the stationery, we also had the pleasure of doing Brienne and Jake's stunning wedding flowers. Bri knew she wanted to emphasize a pale pink and peach color palette, and we had a great time picking out classic flowers in this color scheme. 
I worked hard to ensure that our floral designs played up the best architectural features of the venue. For example, at Addison Oaks Buhl Estate, one of their most outstanding features is the chandeliers throughout the estate. We draped many of the chandeliers in greenery to highlight these light fixtures and added hanging flowers. This made for some stunning wedding day photographs.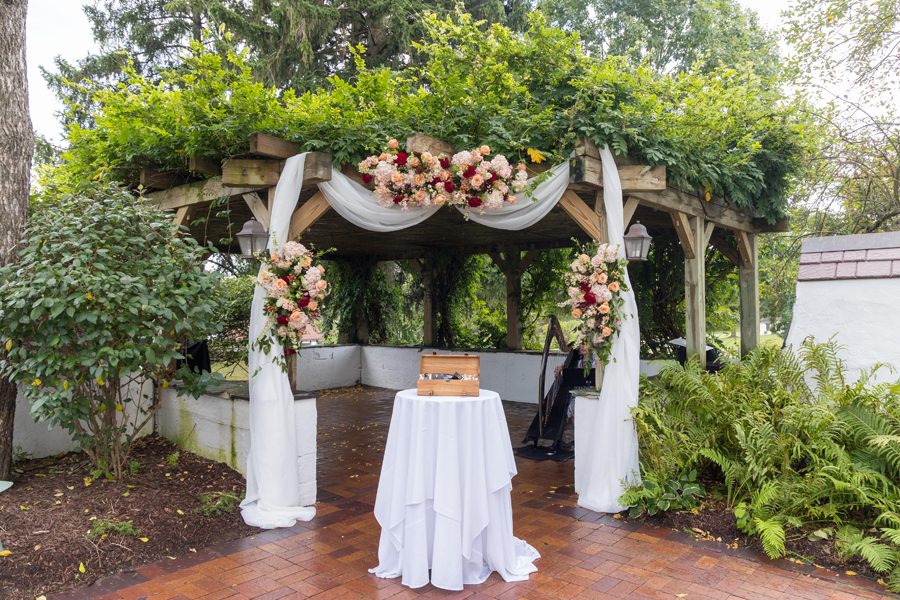 Reach Out to Design Quintessentials for an Initial Consult
Working with wedding couples to achieve their wedding day dreams is one of our favorite parts of our job. To learn more about how we can help tell your story, just like we did for Bri and Jake, schedule your initial consultation today!