Real Wedding: Jessica & Paul
Waterford, Michigan | Photographer: Dax Cox Photography
And Then Came The Pandemic…
When the COVID-19 pandemic reached a new stage and caused the massive shut down last year in March, there was a definite uncertainty over the return of life as we knew it. We all had to give up a lot of our routine due to the pandemic, and it was difficult without a doubt!
One of the most significant changes that had to take place was with social gatherings, which basically came to a halt. It's like one day we were helping people plan their wedding day, and then the next moment, people began questioning if they would have a wedding at all. The pandemic really took a toll on everyone, and not having the chance to work with couples on planning out their perfect day was definitely something I missed during this whole ordeal. Fortunately, I was able to get back into the swing of things with Jessica and Paul.
My First Wedding… After The Shutdown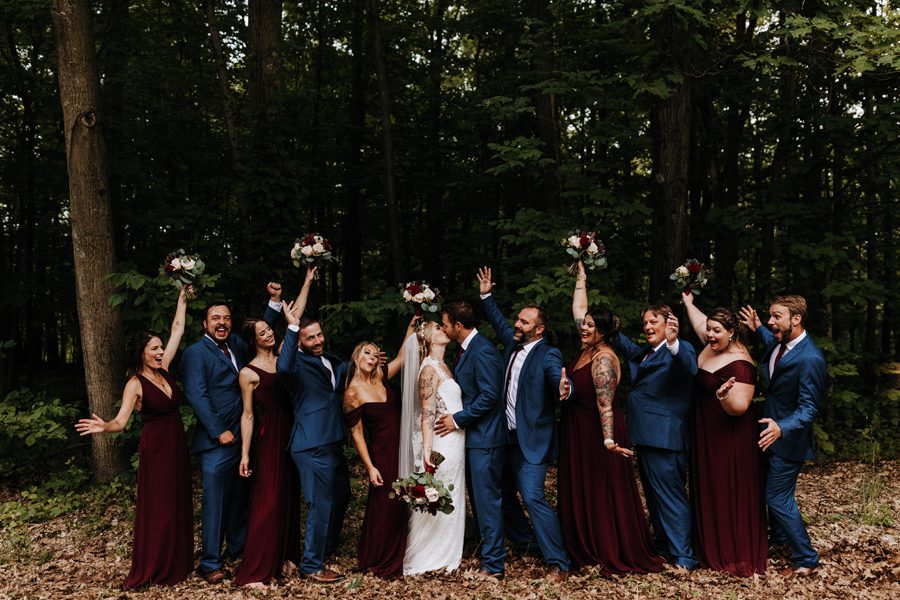 Jessica and Paul were my first COVID wedding after the shutdown. They are a lovely couple that wanted to celebrate their day with the appropriate measures. Their wedding was suppose took place in the Fall of last year, with limited guests that only included their close friends and family. Due to the pandemic, Jessica and Paul opted to have their wedding in their backyard. It was a close-knit private affair with a beautiful color scheme.
A Beautiful Backyard Wedding
Jessica and Paul chose the colors navy and burgundy for their big day to give off bold and beautiful vibes. This color scheme was a jolt from the traditional color schemes many couples choose to go with. Most people go with pastels or more traditional combinations like red and black, but it was attention-grabbing in the best way possible. A bold color choice for such an intimate wedding proved to be a big hit!
The bridesmaids wore rich burgundy dresses, while the groom wore a lovely navy suit and burgundy tie. The colors complemented each other beautifully. Jessica's bouquet was a rich combination of red and cream-colored roses. It was a dreamy celebration of love during such a whirlwind time. I can't explain how ecstatic I was to work with Jessica and Paul to make their big day happen.
We've Got Pictures To Prove It
Since then, we've uploaded pictures of their wedding to Pinterest, and they've been a huge hit! Could burgundy and navy be a popular wedding color combination for 2021? It seems like it. I think it's so fun and eye-catching that many couples would love to use this combination for their own big day. One thing is for sure, I will always look back to Jessica and Paul's wedding as a sweet reintroduction to what I love to do the most: being creative and creating the perfect wedding floral design for couples!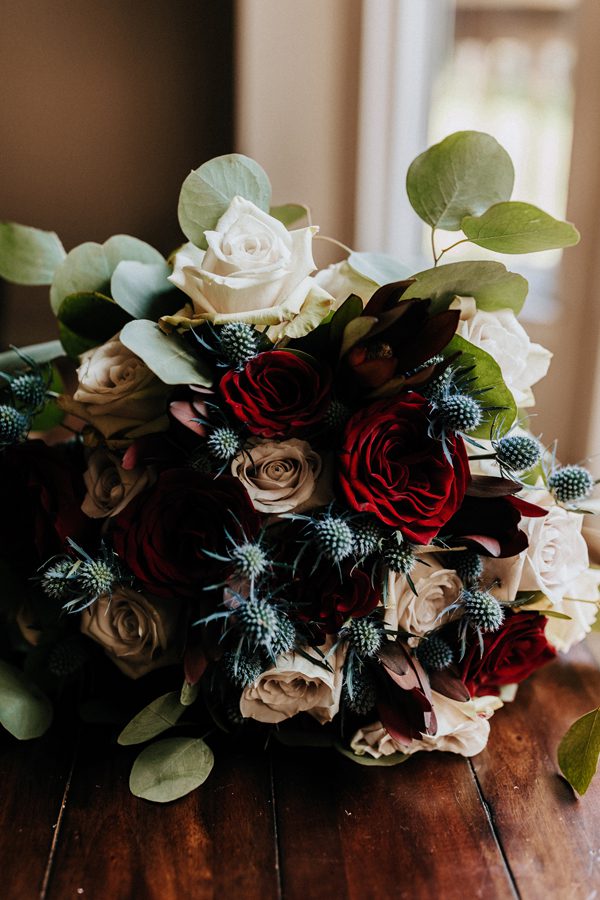 Contact Us For Your Big Day
If you reside in Metro Detroit and are looking for florals that make a statement, work with Design Quintessentials! Let us help you tell a story with flowers at your next big event. Click here to book a consultation!