Real Wedding: Jen & Chris
Bay Pointe Golf Course – West Bloomfield, Michigan | Photographer – Fairytale Productions
Jen and Chris had an absolutely lovely wedding at the Bay Pointe Golf Course in West Bloomfield. I always remember the weddings I've worked in very fondly, but there's something about the way I was introduced to this couple and their wedding that I'll always remember. 
A Package Deal
It's safe to say I'm usually contacted by brides, or even the brides' mothers, when it comes to booking a consultation and working a wedding. It's not often I'm contacted by a gentleman, and definitely not the father-in-law. John reached out to me and booked the service without an initial consultation. Not only was the floral decoration service booked, but the couple also wanted me to design and create the whole package including the paper goods, like the wedding invite and wedding program, among other things. This is always my goal, to be able to create and design the whole package for the couple, so their wedding theme is unified and in sync with one another.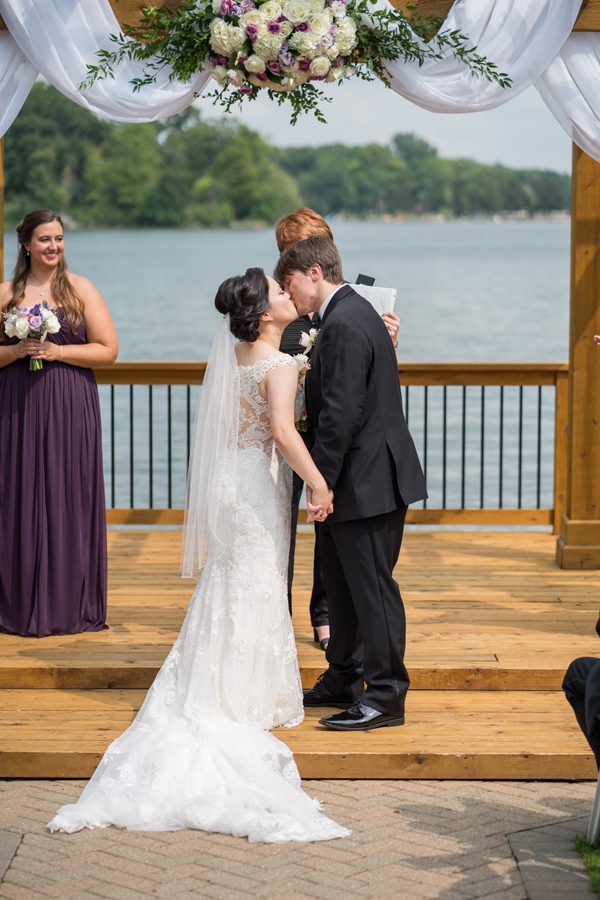 Bringing It All Together
Chris and Jen's wedding colors were plum and white. Jen was enamored with rose embossed handmade paper, so we went for a classic wedding invite. Jen's mom loved the traditional Chinese color red for the wedding, however, we were able to incorporate her wishes as well with a wedding tea ceremonial card that featured a double happiness symbol design. Now bride and mom were happy!

The wedding was held at the Bay Pointe Golf Course, which boasts a gorgeous outdoor gazebo by the lake. The couple wanted a beautiful ceremony floral decoration to run along the gazebo's draping, and I was more than happy to oblige! The floral decorated gazebo became the perfect picture spot for wedding photos, bridal photos, and of course, family photos. Then we moved the floral decoration to their wedding head table inside for the reception. The table arrangements varied in being tall and short, and they were mixed with numerous white and purple flowers that complemented each other perfectly.
Take a Look At The Photos
The wedding was gorgeous, and I was blessed with the opportunity to work with this couple and their families! Best wishes to Jen and Chris! Don't forget to take a peek at the photos we captured!