Years ago, many brides and grooms thought that booking a floral designer was one of the easy tasks on their to-do list. However, this is no longer the case. Booking the right floral designer for your wedding takes a lot of thought, the willingness to ask the hard questions, and the ability to think outside the box.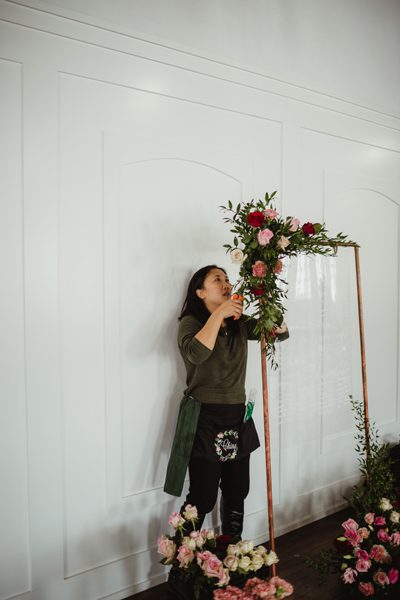 Floral Design Consultation: What To Expect
Many brides and grooms show up at a consultation with their floral designer with only a handful of pictures or a Pinterest mood board. They also do not have questions prepared. Frequently, the first and only question is: How much will it cost to bring my floral dream to life? However, this overlooks one other very important factor, which is collaboration.
Collaboration is Key
Good floral designers are not robots who simply follow directions. The best floral designers are artists, and if the wedding party collaborates with these artists, the final floral arrangements will go from good to great. At the end of the day, everyone wants breathtaking florals!
However, collaboration works best if the different parties already have a shared vision or style. Think about it this way. If you plan an urban wedding in a slick skyscraper, you probably do not want to seek a floral designer specializing in boho-chic or rustic, rural weddings.
This means that before you head off to your first consultation, you should make sure to browse the floral designer's portfolio, which is hopefully available online. See if your styles gel and if you could picture some of their best arrangements at your wedding.
Book A Consultation With a Floral Designer
Once you've decided that an introductory consultation makes sense, sit down and come up with a list of detailed questions. Your decision on your preferred floral designer should never come down to just dollars and cents. Instead, it should be based on who is best able to bring your floral vision to full reality on your wedding day. If you are looking for a floral designer in Michigan who can collaborate with you and bring your vision to life, contact Design Quintessentials today!