FINALLY I'm writing about this shoot, almost a year later. I've participated in a few styled photoshoots in 2018, some organized by me and others by someone else. However, they weren't big enough for me and weren't really making the impact I would have liked. I wanted something large and spectacular, something to challenge myself with.
Then I Found The Barn in Clarkston
When I met Leanna at a business meeting, I was immediately in love with her barn. She purchased the barn back in 2017 and was doing all the renovations herself. Leanna's end goal was to make it a historical place where locals could hold farmer's markets and wedding ceremonies.
She was very excited when I shared my idea of my very first, big, wedding-styled photoshoot. I wanted to have five photographers at the shoot that would each have separate stations, like reception, ceremony, flat lays, cake, and more. There would be enough models and couples so each photographer had their own models/couples to work with on the shoot rather than everyone photographing one couple or one model. Basically, a place where I set everything up, from big decorations to small details, and photographers just arrive, shoot, and network.
The Inspiration Idea to Reality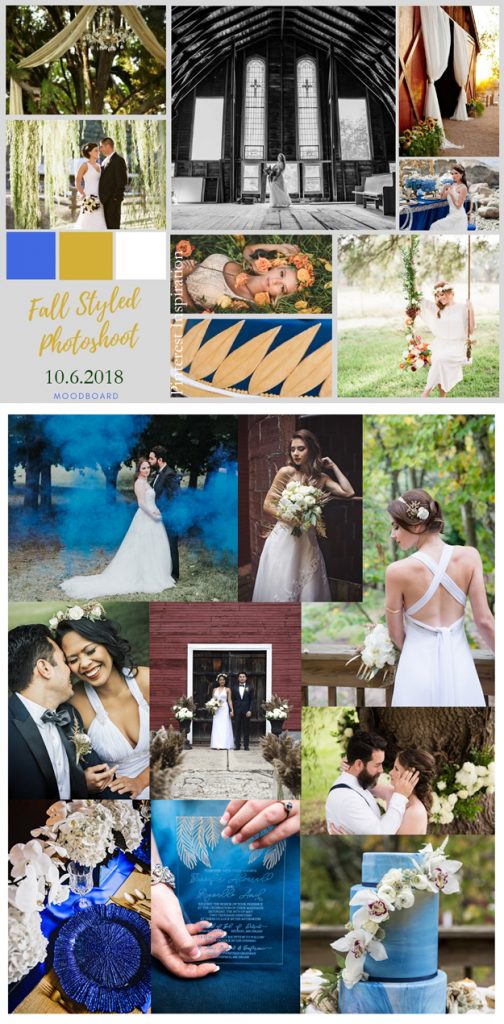 The design theme was based on high-end barn weddings with a Greek influence mixed with royal blue and gold for colors. Top images are from Pinterest Inspiration and bottoms are from the shoot.
The First Photoshoot
The very first photoshoot was a huge success and everything went smoothly. Even the weather had been nice enough to not rain on us… thank goodness! We had over 25 vendors at the barn, including four makeup artists, two hair stylists, a wedding planner, a baker, a gown shop, a linen company, five photographers, and two actual couples with four female models. The photographers got to network, shoot amazing photographs, and help each other create beautiful work. The final result was incredible.
For More
If you're in the Metro Detroit Area and are looking for a stellar floral design for your upcoming event, then feel free to contact me at Design Quintessentials. I look forward to helping make your big day beautiful.
Your Detroit Florist and Vendors
Photography | Ilze Lucero
Wedding Planner | Christa Graham
Venue | Picassos Grapevine
Floral Design | Design Quintessentials
Stationery | The Paper Creation
Tee-Length Dress | Dolly Couture Bridal
Hair | Simona Vigh Hair Design, Stephanie Holmes, Mary Simmons
Makeup |Megan Walker, Rosa Elena Alcantara, Jiosel Sarino,
Cake & Macarons | Brooke LaFore
Linens & Place Settings | Fabulous Events
Model |Nadia, Greta, Miranda, Audrey, Aaron & Tiffanie, Jiosel Sarino