Covid-19 has transformed the wedding industry, as vendors strive to keep our clients safe. Fortunately, it hasn't completely stopped weddings! After all, love knows no limits! In addition, it has not stopped Design Quintessentials from being able to participate in some fantastic photoshoots. Keep reading to learn about the floral design I did in Dexter, Michigan, for a styled photoshoot at Zingerman's Corman Farms!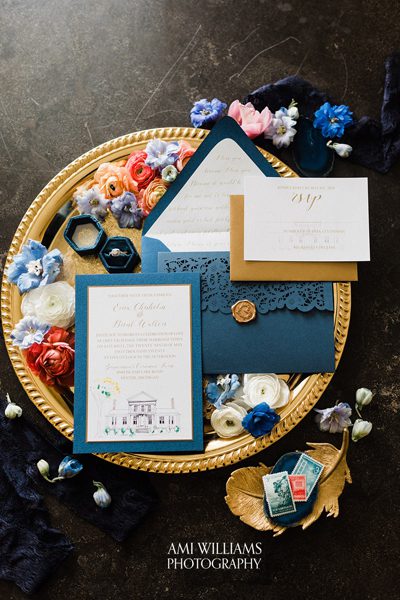 Floral Design in Dexter: Zingerman's Corman Farms Photoshoot
Zingerman's Cornman Farms in Dexter, Michigan, is one of Michigan's most stunning wedding locales. I have always wanted to do a photoshoot here. I was so excited to be asked to participate in one by A Good Event Planner and their wedding planner, Alexis.
This photoshoot pushed me out of my comfort zone in terms of colors. However, I ultimately embraced the blue and gold color theme and was thrilled with how elegant this unique color combination looked in all the photos. We also were able to create unique floral designs in dusty rose and gold, which gave a unique romantic flare to the photos.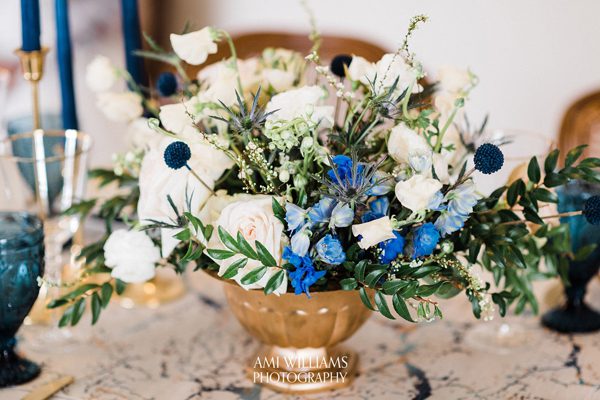 Blue and Gold: Setting an Elegant Stage
Blue and gold is not a color combination that I am frequently asked to do in floral design. This unique color combo presented an exciting challenge for me as I thought about different flowers that would fit into this color scheme. The tablescape for the indoor photoshoot featured elegant blue candles and matching stemware and a smattering of gold in the table settings. I decided to focus the majority of the bride's bouquet on pale roses that cascaded from her hand. I also added some subtle pops of blue color. The design of the centerpieces closely mirrored the bride's own bouquet, creating lovely symmetry.
Dusty Rose and Gold: A Romantic Image
Dusty rose has traditionally been an extremely popular color for weddings, particularly spring and summer events. However, it is a little less common to see dusty rose paired with a beautiful golden hue.
This dusty rose and gold photoshoot was done in the barn, so we wanted to create a rustic and romantic theme with our floral designs. Again, pale roses formed the majority of the bridal bouquet, as well as the tall, attention-getting centerpieces. To bring in the dusty rose portion of the color scheme, we sprinkled in some beautiful pink flowers, both into the bouquets and the centerpieces.
This Photoshoot Should Serve as a Reminder
This photoshoot should serve as a reminder that beautiful floral designs can be created in any imaginable color combination. Brides and grooms should select the colors that speak to them and then work hand-in-hand with floral designers, such as Design Quintessentials, to bring their vision to life. We had a fantastic time doing floral design in Dexter and would be excited to do the same for you!
Your Detroit Wedding Florist and Vendors
Photography | Ami Williams Photography
Wedding Planner | A Good Event Planner
Venue | Zingerman's Cornman Farms
Floral Design | Design Quintessentials
Stationery | The Paper Creation
Models | @oybella