Doing photoshoots at interesting new venues are one of the most exciting parts of my job at Design Quintessentials. It undoubtedly helps spark my creative juices, and it also helps promote fellow vendors in the wedding business space. Our business is truly collaborative, and we all benefit from our fellow vendors' success. Speaking of collaboration, let me tell
Design Quintessentials prides itself on always bringing creativity to its wedding photoshoots and the clients we work with! One photoshoot that challenged my creativity in 2019 was an Asian-inspired shoot. Making this shoot even more challenging was the fact that I worked with many vendors who were very new to me. My usual friendors (friend + vendor) were busy with their wedding season and unable to attend, including my usual business partner – Kelle.
Even though this represented a challenge, it also allowed me to expand my network and successfully collaborate with even more people. Keep reading to learn about my experience doing floral design in Farmington Hills!
A Unique Asian-Inspired Photoshoot
In the beginning, the only thing I knew for sure was that I wanted to have a red and gold color scheme with an Asian-inspired theme. The first step to accomplishing this was to find great models! I found two lovely Chinese couples, as well as two Indian models. These models brought a stunning style and great warmth and charisma to the shots.
Beautiful Gowns and Wedding Bouquets
The key to making red and gold work was to find the perfect wedding gowns to serve as a backdrop for my floral designs. A local Indian clothing vendor supplied several gorgeous Indian dresses for our models. One of the dresses was burnt orange with stunning embroidery, and the other was a modern take on a traditional sari. The wedding bouquet for one of the brides was made up of crimson roses with a delicate mix of other deep red flowers in a very controlled and sculptural ball.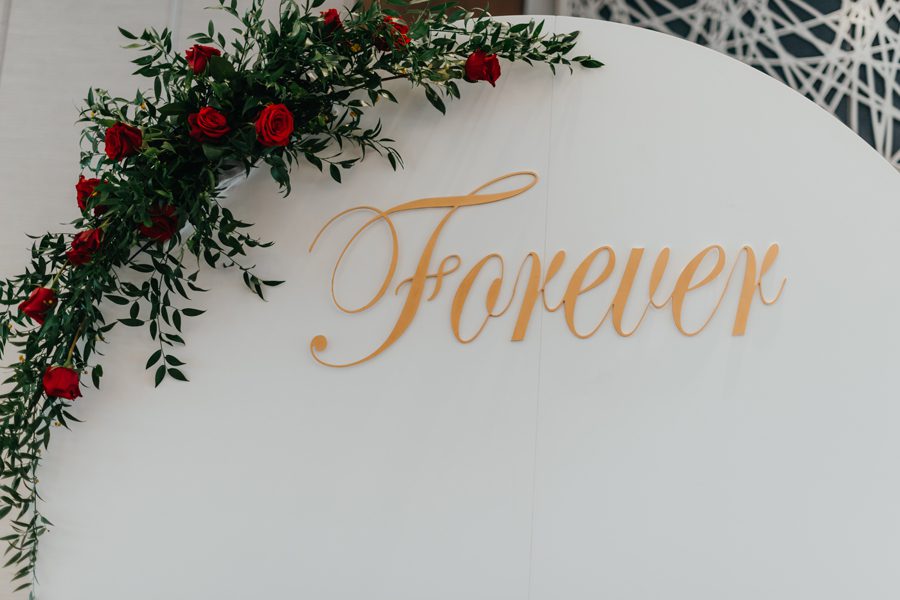 Making It Work With My Own Wardrobe
I also looked for a Chinese clothing vendor for the Chinese outfits, but unfortunately, I struck out. So, I turned to my own wardrobe, where I was able to find two traditional Chinese-styled dresses. The one dress was off-white with gold embellishments, and the second was a red dress that verged on the magenta. These colors were stunning on the models.
For these brides, I designed much larger bouquets that incorporated a wide range of flowers, many of which are not commonly used in wedding floral arrangements. The base color of each of these bouquets was red. I brought in other subtle hues as well.
The Flowers Did Not Stop with the Wedding Bouquets
The floral scheme of a wedding goes far beyond just the bride's bouquet. At Design Quintessentials, we bring a certain floral flare to each part of a wedding. One of my favorite shots from this particular shoot was of our wedding cake. It had red flowers on the top, gently cascading down the side of the cake.
Grateful for the Experience: Floral Design in Farmington
I was so grateful to be able to work with many other talented individuals to pull off this photoshoot, including a great event planner and a brilliant photographer. I'm also glad that I provided my floral design services at this fantastic venue in Farmington Hills that seats over 900 guests.
If you'd like to see a few images from the styled shoot, click here!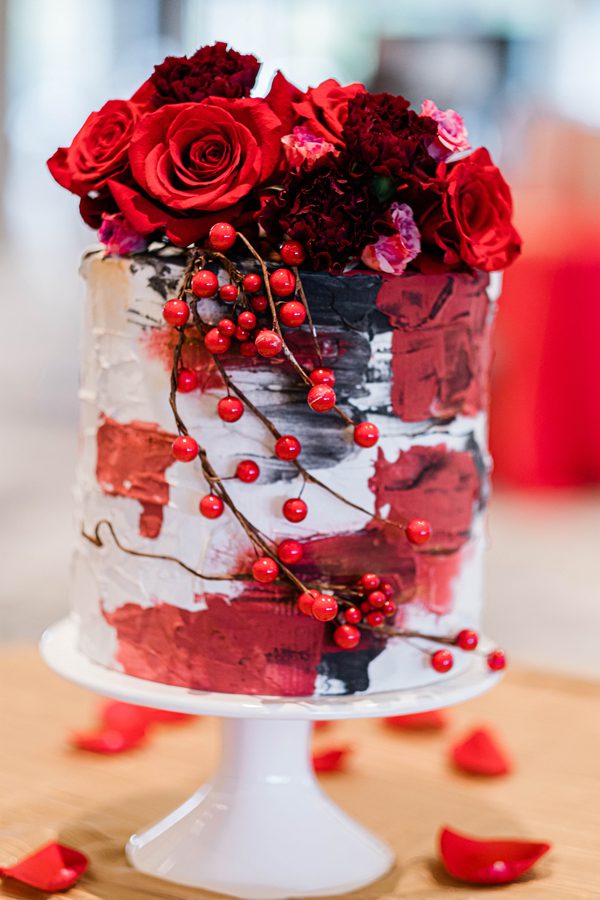 Learn More About Our Floral Design Services
Do you have an event coming up and want florals to help tell your story? Head on over to our website for a free quote today!
Your Detroit Florist and Vendors
Photography | Olivia Wenzel Photography, Maxine Wallace Photography, Anatheium Photography
Venue | The Meridian
Floral Design | Design Quintessentials
Assisted Planning & Draping | Christian Lei Events
Stationery | The Paper Creation
Hair | Simona Vigh Hair Design
Make up | Glam by Shaima
Linens | Affairs to Remember
Indian Jewelry | Kundan Sets
Cake | The Dulce Experience
Models | Sarah & Johnny⁠, Jessica & Allen, Sukriti & John, Margi