As a floral designer, and especially for weddings, I find that people are often shocked by our pricing. They may assume that "it's just flowers" and reason that it should be pretty cheap, but it's a lot more to it than that. Because people assume that it should be easy to do and flowers grown everywhere, many budget a lot less than what floral designers actually charge. As your Metro Detroit Area Florist, I would like to shed some light on this hot topic for those wondering why we charge what we do.
Keep in mind these are just SMALL factors, on the surface. There are a lot more to it deep down, which will be another blog, another time to explain more in the details.
Your Metro Detroit Area Florist Explains Cost
For a long time, I too would grapple about why floral designs cost what they do. However, now that I've been in business for a few years… believe me, I understand and have a better appreciation. Floral designers charge what they do to keep up with their expenses. Let's start with the basic – for us studio designers which means we're self-employed, and we have to take care of ourselves. There's no one else responsible for paying our health insurance and other important benefits. We also have to charge sales tax, which is the beauty of operating a business in the state of Michigan. Next is our essential expenses such as tools like scissors, cutters, knifes, floral foams, floral containers (to process flowers), vases, floral tape, floral glue, floral food, flower box, and the list goes on and on. If you own a brick and mortar there are a lot more expenses to the list.
Education, Training and More…
In addition to caring for ourselves, floral designers also have to be forever learners. I personally received my training from floral design school in Florida. It is truly because of that that I'm able to provide my clients with high quality services. There's a lot to creating floral designs that people don't realize. We have to know how to process the flower and how to create bouquets and centerpieces; all of that takes time and skills.
I also attend workshops so I can continue to get better at my craft and stay on top of the latest trends. One workshop can easily cost $1000 or more.
Here is a workshop I recently attend in California which I wrote a blog about.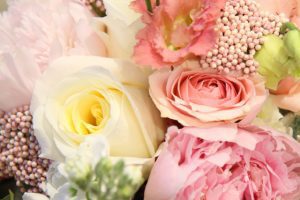 Additional Expenses 
In addition to the above expenses, I also have to factor in the other costs of doing business. Routine expenses like the website domain and hosting, in addition to marketing materials like flyers, postcards, and business cards, all add up.  You also have to keep in mind the basic bills such as water bill, electricity bill, phone bill, Internet bill, and the fees associated with having a bookkeeper.
The Design Takes Time
If you desire a high quality design, then it's going to take some time for the florist to do. For example, a tall centerpiece could easily take 1-2 hours including process time, and the logistics of planning the floral design also takes up a good portion of time. Lastly, many people don't realize this, but flowers often have to be shipped in. We cannot grow flowers all year long due to our weather condition. Often time, even common flowers like roses are shipped from warmer climates such as Florida, or Mexico. Moreover, flowers that are on a high demand item, which makes more expensive. Not to mention premium flowers such as Peony, Garden rose, Dahlia, Orchid and more are even more costly, and depending on the color and season, you'll be surprised what we're paying as wholesale price.   
These are just some of the reasons why we charge what we do, but I promise it's not to get over on you.